In support of protestors, Kanye West and Russell Simmons joined in on the Occupy Wall Street movement in New York. With West next to him, Simmons was the only one to speak. According to him, West did not wish to speak to the media and he silently stood by. However, Simmons elaborated on their reasons for joining the movement.
"Kanye's been a big supporter, spiritually, for this movement," Simmons said in an interview with Okay Africa. "He's just here to stand with the people. He's not with the politics of it, doesn't want to make a statement, didn't want to do any media at all, actually, but he's here. So, there's almost no way around it. He's here."
With West standing beside him, nodding along to his comments, Simmons continued to explain why Kanye West chose to make an appearance.
"He's here in support of the people. As an artist, he feels artistic people and he feels what they're doing. He knows. He understands this idea about getting the money out of the government and letting the people govern. He wants to give power back to the people. That's why we're here."
Kanye West is not the only rapper to lend support for the movement. Talib Kweli, Brother Ali, Immortal Technique and Lupe Fiasco are among other emcees to do the same.
For more from the interview, check the video below.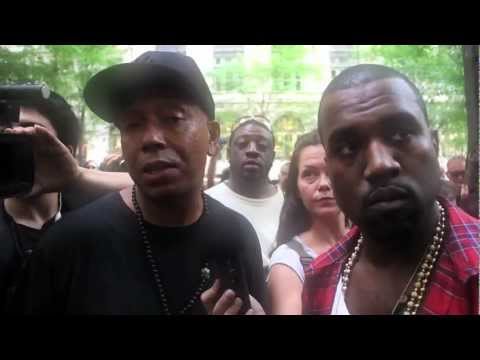 RELATED: Immortal Technique Takes Part In Occupy Wall Street Protest