As September came to an end over the weekend, Kendrick Lamar landed in Atlanta, Georgia for the latest stop on his BET Music Matters Tour. While there, K. Dot revealed a preview of his new collaboration with Hit-Boy.
While on stage, Kendrick allowed his song to play for the crowd. Most of the fans reacted favorably to the song as Kendrick danced along to the beat and pantomimed some of the lyrics. Video footage of the brief preview can be seen below thanks to a fan, zakdude11 on YouTube, via OnSmash.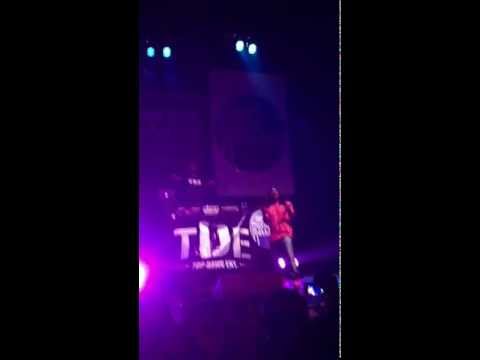 This isn't the first time the song has been talked about. In early September, Hit-Boy spoke with HipHopDX about this collaboration.
"Kendrick [Lamar], man. We've got a really crazy record together. He's spazzing on it. It's club. It's radio. It's Hip Hop. I'm hyped about that…He's swaggin'. It's different from Kendrick, for sure."