Ever since he signed with Bad Boy in 2011, fans have been pining for the debut release from Machine Gun Kelly. Now, in a recent interview with Rap-Up, the Cleveland emcee revealed a number of features slated for his debut Lace Up. Among a bevy of artists like Tech N9ne and Bun B, MGK revealed that he and Lil Jon joined forces on a cut that is sure to be a fan favorite.
"The song me and Lil Jon got on there is called 'Lace Up.' I've never made a song called 'Lace Up,' and I was like, 'Fuck it, I've got to do one,'" he revealed. "When Lil Jon came into the studio, I was like, 'You're not getting on the song [that will be] the anthem of my movement if you don't truly understand this,' and we sat there for about an hour and I ran through countless amounts of fan tattoos with 'Lace Up' on them, countless amounts of show footage, countless amounts of messages from fans. Dude was like, 'Yo, this is real' – towards the point where he was like 'I've gotta get on this song.' We did it, and it's the real Lil Jon you want to hear on it. It's something where we were like, 'Should we take this to radio…nah, radio wouldn't understand it'…but my fans, when they hear it, they'll [love it]."
MGK also spoke about one dream collaboration he hopes to happen in the near future with Eminem. Although he said that he's never had the chance to meet with Em, recording with Shady would be as incredible as it was to record with DMX.
"That would be a fan favorite if an MGK-Eminem song ever went down. "Best rapper alive in my opinion. The DMX-MGK thing was a dream collaboration…if those two [DMX and Eminem] could be knocked off, I won't have any more on my bucket list really."
Check out the full interview below.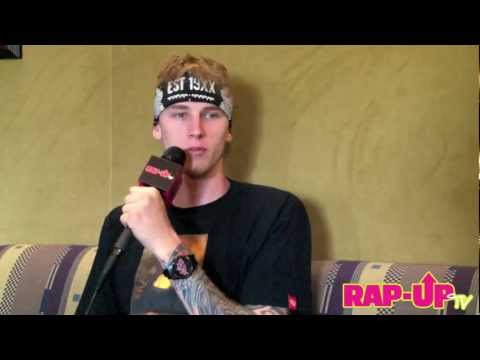 RELATED: Machine Gun Kelly's "Lace Up" To Feature Appearances From Tech N9ne, Bun B & More