Pomona, California veteran producer/emcee Big Hutch (a/k/a Cold187um) revealed to HipHopDX this week that he is suing Rap artists Eve and Dr. Dre, along with Interscope Records and Ruff Ryders Entertainment for "stealing" the 1999 single "Love Is Blind."
According to information given to HipHopDX by Big Hutch's management, the founding member of Above The Law says that in December of 1997, he was introduced and hired to produce for Eve by Mike Lynn, Head of A&R for Dr. Dre's Aftermath Entertainment. In sessions between Hutch and Eve, "Love Is Blind" was allegedly one of the songs created. Hutch claims to have co-wrote and produced the track. Hutch even called in the Aftermath songtress at the time, Truth Hurts, to sing the hook and assist them in finishing up some other singing ideas they had.
In the two years following the early demo recordings, Eve moved from Aftermath to another Interscope Records label, Ruff Ryders. In 1999, she released Let There Be Eve…Ruff Ryders' First Lady, her multi-platinum solo debut, featuring "Love Is Blind," a song with vocal assistance by Faith Evans.
Following the success of the song, Big Hutch, who was then serving as Vice President of Death Row Records during Suge Knight's incarceration, reportedly approached Aftermath executives about royalties and compensation. According to his statement, he was told, "We can't help you. You have no proof."
Hutch, who has been incarcerated several times in the last decade, kept many of his master recordings in storage. The producer recently found tapes including Eve's demo, which was recorded at the famed Larrabee Studios. He provided HipHopDX with that image.
In a statement, Hutch said, "I'm not trying to take away from what Eve has done, but I was a key in helping Eve create a hit record. " He also noted that the parties involved in Hutch's law suite has yet to respond to the accusation, causing him to take further legal matters.
Dr. Dre and Big Hutch have had a tumultuous working relationship dating back to the late 1980s. Dre and Hutch both produced Above The Law's 1990 debut album, Livin' Like Hustlers prior to Dr. Dre's leaving Ruthless Records. They also appeared together on 1990's "We're All In The Same Gang." When Dre and former N.W.A. band-mate Eazy-E were feuding on records, Hutch produced on It's On (Dr. Dre) 187um Killa, a 1993 EP that aggressively attacked Dre and his fellow artists at Death Row Records. Throughout his career, Hutch has also publicly claimed he invented G-Funk, a type of music often credited to Dr. Dre through his solo debut, The Chronic. For a brief period in 2000 and 2001, after working together again, Hutch also assumed Dre's former executive post at Death Row Records, where Dre was from 1992 to 1996.
In 2010, Big Hutch told HipHopDX, "You gotta understand this, I'm the architect of G-Funk. You can't tell me what G-Funk is. If I want G-Funk to be blowing on a whistle and beating on a box, that's G-Funk, because I invented it. I am the architect." In that same interview, he supports Dr. Dre and his then-newly released song "Kush."
Earlier this year, Hutch released his first mixtape, From Pomona, With Love. In 2011, he released his fifth solo album, Only God Can Judge Me. As a rapper, he has toured extensively in recent years with Insane Clown Posse.
Photo credit: JericksonPhoto.com
(June 21)
UPDATE: Today (July 19), Big Hutch released a video, regarding his ongoing lawsuit against Eve, Dr. Dre and Ruff Ryders Entertainment over the 1999 Eve single "Love Is Blind." In the video, Hutch displays the Larrabee Studios master tapes, and plays the song in his Cadillac Escalade.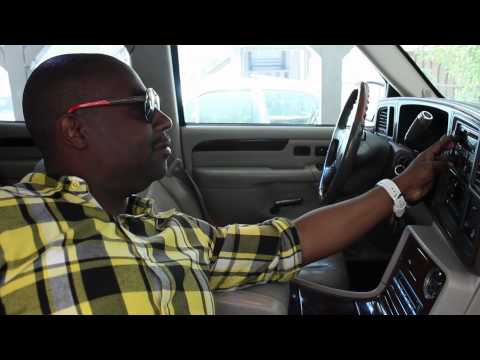 Eve, Dre and Ruff Ryders have yet to publicly respond to the suit. Earlier this month, Big Hutch's Above The Law band-mate, KMG died tragically on July 6 reportedly of a heart attack.