Strange Music has become one of the biggest and most followed movements in all of Hip Hop the last few years and while Tech N9ne gets most of the credit, the rest of the roster should receive notice.
In the midst of a record setting tour that has spanned the country multiple times, the Stranger gang has continually stamped their brand but also has given exposure to some of their newer artists.
Enter 2009 DXnext alum Stevie Stone; one of the newest members of Strange Music but no stranger to headliner Tech N9ne who helped build the career of the fellow Missouri native.
"My first show ever was with Tech so he was one of my biggest inspirations that I was able to see young and coming up and see what he was doing," Stevie Stone explained. "Even before I even met him he was one of my favorite artists."
HipHopDX spoke to Stevie Stone the day his album, Rollin' Stone dropped to ask him about his latest release, his inspirations, which include Tech N9ne, and how the team keeps it fresh every night after being 70 shows in on a tour that has now eclipsed 100 scheduled dates.
HipHopDX: You've hit a lot shows across the country on this Hostile Takeover Tour. I was able to be at the Columbus stop and it's pretty impressive so how's that been going for you?
Stevie Stone: [The] tour's going great, we're actually on the last leg now. Today's a big day of course because my album dropped today while we're in Buffalo, New York and the tour's going great man. We're 70-something shows in strong and we're on the last leg, it's beautiful.
DX: How do you keep a tour that's that long fresh especially towards the end when you're doing shows almost everyday all across the country?
Stevie Stone: Well I mean I'll say this and I believe I'm speaking for everybody, every city that we go to these kids have been waiting for months for this to happen so when we get up there and hit that stage, we leave it on the floor. Tech [N9ne] was talking about it last night, you know when I get off the stage I'm soaking wet, always sweating, I've gotta change my shirt, I'm breathing heavy. Everyone be like, "Stone, you tired?" I be looking at them like, "If I'm not tired when I get off that stage, something is wrong." Every show in every place has a different energy and they're so excited that that energy builds off each other and ultimately we want to go there and give them what they paid for and give them the best show possible. So I think nobody takes off, no one comes in like we're gonna go through the motions. Me as an artist, I don't even have time for anything like that and that's not me anyway. A lot of new fans that never seen me perform, we're still converting, we're still getting these people in converting mode so it's our mentality.
DX: Like you mentioned, your Rollin' Stone album just dropped today. What were you going for on this one and what did you want this one to sound like?
Stevie Stone: Well the sound especially for the beats you're going to hear a lot of bass, 808-driven and that's just automatically me. I wanted it to be a rollercoaster ride though, Rollin' Stone, strap your seatbelt it's going to be a rollercoaster ride. It's an album filled with fun, highs, lows, tears, everything. It's life. I was really inspired when I went on the All 6's and 7's Tour doing that. It's just like progression all the way around too. Ultimately I wanted to touch all bases and in life in general you're going to go though a whole bunch of things and I just wanted to showcase that. I club it, I kick it and I get serious. There's a little bit of everything on there and that was the goal that I was shooting for and if you heard it you can't put Stevie in a box. You listen to "808 Bendin'" and then you listen to "My Remedy," two totally different tracks, only thing that's really similar is the pulse. I'm very very picky when it comes to beats and the music talks to me and it writes itself so that's what I wanted to do, I wanted to create a rollercoaster and that's what I went through. Life is a road and you're going to have highs and lows and happy times and all that.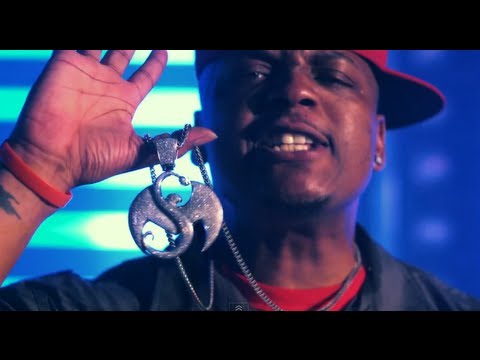 DX: Strange Music is one of the biggest independent labels in Hip Hop right now but beyond the label, it's created such a big cult following with everyone involved. What does it mean to be apart of this and be signed on to Strange Music?
Stevie Stone: It's a beautiful thing and all those people you're seeing, they come to every single show every time someone from Strange Music comes out. It's a family. To be a Stranger is like a way of life and they love and support their artists full force. It was a blessing when they embraced me. I just got done releasing a song yesterday called "Perfect Stranger," the video release and they embraced me so it's a blessing and it feels so great to be embraced by all of those guys.
DX: What were some of the movements or artists that made you really want to get into picking up a mic and starting a Hip Hop career?
Stevie Stone: Tech N9ne definitely, Tech N9ne is from Missouri. I was born in Columbia, Missouri and I've been living in St. Louis, Missouri for like the last seven years, I was born in Columbia. My first show ever was with Tech so he was one of my biggest inspirations that I was able to see young and coming up and see what he was doing. Even before I even met him he was one of my favorite artists. So I started opening up for him, after that first show and to see that as a blueprint on what they were doing and watching it grow so he's definitely one of my inspirations and someone I've always looked up to and has always been a mentor. He was the guy that I got to see and to see how to do this thing and learn from and how the game is.
Busta Rhymes, I love Busta and I really want to do a track with Busta. I think that me and Busta, I think it's gonna happen one of these days and I think when it does people are gonna go crazy. I think people are gonna go crazy when they hear me and him do a record together but I live Busta Rhymes. I love Eminem. I love the way that he plays with his words, he a real emcee. I love Tupac, I love DMX, all those guys they had something about them that gravitated me towards them. Tupac was so believable and you know he meant everything he said and the feeling that he gave you when he said a line and the list goes on and on. Those are a few artists there that have inspired me.
DX: You mention the first show with Tech and now you're doing this tour that is 90 plus tour dates in 99 days, what does it mean to have a guy you feel comfortable with and that you're good friends with be on this long tour since you're kind of in this together?
Stevie Stone: Well I mean it's family so it's definitely a blessing to be a part of this road and actually breaking a record together cause this is gonna be in the Guinness Book for longest Hip Hop tour ever so that's a blessing from going from junior high school and being a huge Tech fan to now on tour with him. He's like my brother, my mentor, we're on tour together and we're breaking a record together, it's crazy. The album came out [under the billing of] "Tech N9ne Presents…," you know what I'm sayin, it's dope. Words can't even express how happy I am. Today's definitely a big day so I'm soaking it in but there's still more work to do. I've been doing a lot of shows and I learned it from them, it's like I said, that blueprint of going to these towns and getting these people. I've done a couple of tours on my own where I'm the headliner and it's 30 cities but one time I may be there and there's seven people there and I come back and there's 50 people there and then I come back and there's 300 people there and now I've got to move to a bigger venue. After every latter there's a latter and I'm excited to climb this latter and I'm still climbing.
DX: Sure and you mention there's more work to do so what's next for Stevie Stone after you get off this tour?
Stevie Stone: Right when I get off the tour I'm gonna go home and I'm gonna spend time with my family, my loved ones for a second and then at the end of July, we'll be back at it doing some spot dates and I'm already getting some shows booked for me to come out and then we're gonna plan another tour and be back out in the fall, it's non stop. I've got an album to promote now, I've got an album to sell so it's not no time to sit back and relax, it's like I said, I'm climbing this latter and we gotta keep going, you know what I mean?
Purchase Music by Stevie Stone