Massachusetts native REKS just released his latest works with fellow Showoff Records Hip Hop producer-in-charge Statik Selektah entitled Straight, No Chaser. The emcee, father, and well-known Hennessy-drinker and "2011 HipHopDX Graduate" took a few minutes to speak to HipHopDX about why Statik's production is such a good fit for his lyrics, where his favorite place in Massachusetts to enjoy his drink of choice would be, and more.
HipHopDX: Straight, No Chaser will be the first project you put out entirely produced by Statik Selektah. What is it about his production that makes him so ideal for you to work with?
REKS: It's a no brainer. Out of all the producers I've worked with throughout my career, he knows what's best. He's a close friend also – the Godfather of my youngest child. He has a perfect ear for what needs to come out as a REKS project.
DX: How did you and Statik meet?
REKS: He was doing a showcase in Northern Massachusetts or New Hampshire. He wasn't looking for me, he was looking for an artist that my manager was also managing at the time. He felt my music though, and we clicked from day one. The rest is history.
DX: You got back from South By Southwest not too long ago, how did that go?
REKS: If you're an artist trying to make it in the industry, it's definitely the place to be. It's a who's who of talent out there.
DX: If you had to pick one song from your catalog to represent yourself, what would it be?
REKS: "Mr. Nobody." It's my most personal song to-date. It deals with what I try to dive into with all my music, which is relating to the everyday person.
DX: You also recently just returned from Europe. What's different about doing shows out there than doing them Stateside?
REKS: In Europe the appreciation goes beyond the level of notoriety for an artist. It's not really important, it's more of a moot point. It's not what people look for when they listen to the music. They adhere to a different code and are more open-minded. Be it underground or commercial, to them if it's good music, it's good music.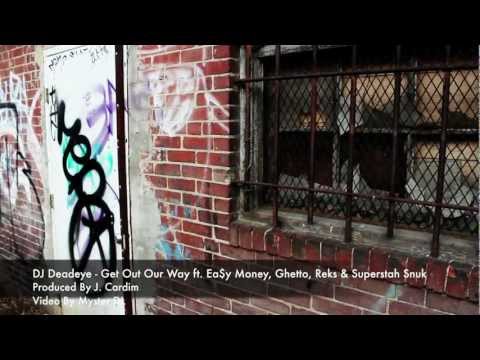 DX: The Tupac hologram is the talk of the town these days. If you could bring back a performer as a hologram for one last show, who would you bring back?
REKS: Michael Jackson. I never got to see him. I'm a big fan of Marvin Gaye but if it was for a performance, I'll definitely say Michael Jackson.
DX: Jackson 5 Michael Jackson? Or Michael Jackson's more recent self?
REKS: Um, neither? [Laughs] Thriller Michael. Before all the media controversy. Michael in the prime of his career.
DX: Here's a hypothetical – you're in your favorite place in your former home of Massachusetts, drinking Hennessy. Where are you, and how are you drinking your Hennessy?
REKS: [Laughs] I'll probably be in the Stadium projects blasting the music. I'd go around the corner and hit the local bodega. Grab me a big joint of the Hennessy and me and my cousins would kick it. I enjoy it straight with no chaser, all day.
Purchase Music by REKS