Nardwuar the Human Serviette struck again, as the famous interviewer astounded Kendrick Lamar at SXSW 2012 in Austin, Texas.
During the interview, Nardwuar asked whether Tech N9ne, with whom Kendrick later did a BET Cypher, connected Kendrick with another Compton native, Dr. Dre.
"We did the show [with Tech N9ne]…got strange call to my dude Ali phone, and it was Dr. Dre. I don't know. …History since then. Thank you Tech N9ne!"
Nardwuar handed Kendrick Lamar a copy of Big Daddy Kane's single "Cause I Can Do It Right" on vinyl, prompting a story from K. Dot about the Brooklyn Legend.
"[Big Daddy Kane] is one of my pop's favorite artists," revealed Kendrick. "My pop's from Chicago. You know what's crazy? When I was coming home, they say, when I was in the car seat coming from the hospital, my pops was playing this really loud. My moms was like, 'Turn that shit down!' He was like, 'No. Let him hear. This is music, and it's good music.'"
Watch the interview below: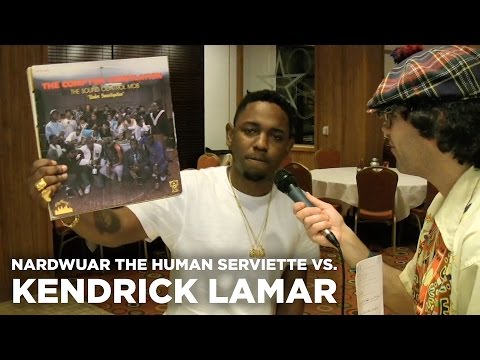 RELATED: Kendrick Lamar Premiers "Staircases" Produced By The Neptunes At SXSW