This week, Lil Wayne reignited his beef with Jay-Z during the Cash Money pre-Grammy party, gracing the mic to attack his frienemy with some bars. Meanwhile, Nicki Minaj didn't fare so well at the 2012 Grammy Awards, performing her new single "Roman Holiday" but facing criticism for its sacrilegious content and wacky concept. She later defended her actions, stating that she didn't know "what the big issue" was. Lil' Kim took the opportunity to release her new single "If You Love Me,"
appearing on a Bravo talk show to take down the Harajuku Barbie.
Lil Wayne Reignites Beef With Jay-Z At Pre-Grammy Awards Party
Before the Grammy Awards, Lil Wayne appeared at the Cash Money pre-party, hopping on the mic to spit a few new bars for the crowd. During his freestyle, he decided to reignite his feud with Jay-Z, addressing his "Baby money" line from "H.A.M."
"I met a bad red bone, I took the bitch home / I asked her what she want to watch, she said surely not The Throne," he rapped, referring to Hov's project with Kanye West. Jay is yet to respond, but the sweetest revenge? Winning the Grammy for Best Rap Performance for "Otis,"
and not even being in attendance to accept the award.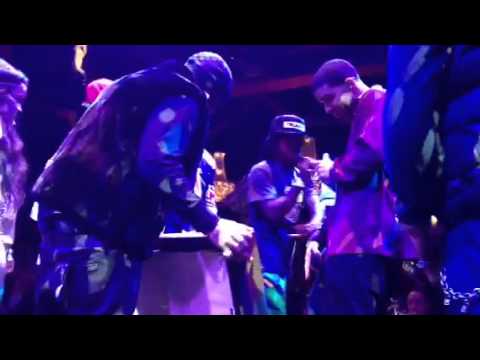 Nicki Minaj Faces Criticism For 2012 Grammy Awards Performance, Responds To Haters
During the 2012 Grammy Awards, Nicki Minaj channeled her alter ego Roman Zolanski for her debut performance of "Roman Holiday," packed with religious imagery of exorcism, priests and confessional. Responding to the criticism, which included attacks from the Catholic League, the Young Money rapstress dismissed the hate, stating that she wanted her character to "be sort of exorcised" and that it was her "creative craziness." She later addressed the critiques more directly, stating, "I don't know what is the big issue?" and explaining that the performance was a small part of a movie she's creating.
Lil' Kim Drops New Single, Disses Nicki Minaj
In contrast to her foe Nicki Minaj, Lil' Kim had a relatively solid week, releasing her new song "If You Love Me"
in honor of Valentine's Day. To promote the single, Kimmy Blanco appeared on Bravo's "Watch What Happens," using the press opportunity to attack the rap Hannah Montana with some shady insults. During the chat, she referred to Nicki as "Fire Marshall Bill," a "Stupid Hoe" and overrated. Nicki is yet to respond to the verbal barbs, but with her performance at the Grammys drawing such criticism, it probably isn't the best time.
Other items of note:
– J. Cole Addresses Being Left Off MTV's Hottest MCs List
– Whitney Houston Found Underwater In Her Hotel Room Bathtub
– Kanye West, Jay-Z & Chris Brown Win At The 2012 Grammy Awards
– Producer Scott Storch Arrested For Cocaine Possession In Las Vegas, Nevada
– Brooklyn Rapper Ra Diggs Charged, Indicted For Three Murders, Could Face Death Penalty