Atlanta rapper 2 Chainz got a little personal during his "Questions With Kimmy" segment on YouHeardThatNew.com as he shared one of his favorite Valentine's Day memories which consisted of spending an entire day with his love interest at that time.
"Probably did a full day with a female of mine as far as just getting up, eating breakfast, go to the spa together, get massages at the same time…Definitely flowers, but not chocolate," 2 Chainz explained. "Go out to eat and just do some player stuff."
2 Chainz later put the romance talk aside to discuss a few of his favorite features which includes songs from Chris Brown, will.i.am, and Lil Wayne.
"I don't know, I've been murdering everything. I'm excited about some features that's not out. I did a song with Chris Brown and will.i.am. I'm excited about that," 2 Chainz revealed. "And the one I got with Tunechi I'm excited about that."
When asked who he'd like to work with if he were ever to make an album similar to Kanye West and Jay-Z's Watch The Throne 2 Chainz named fellow Playaz Circle member Dolla Boy. The rapper also spoke briefly on his deal with Def Jam.
"It'd probably be Dolla Boy the other half of Playaz Circle man…Without me just discussing too much everything was appropriate and in my favor," said 2 Chainz in regards to his deal with Def Jam. "Yea, and I'm looking forward to dropping a major release around August."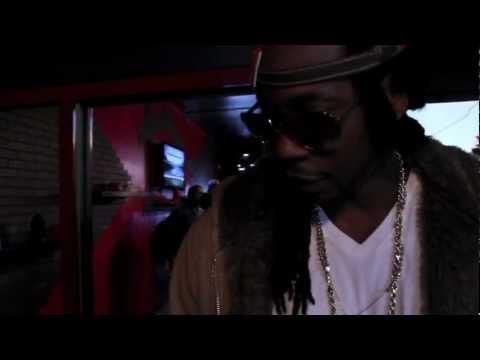 RELATED: 2 Chainz Says The Reaction To Raekwon's Comment At His NYC Show Was Blown Out Of Proportion