Who the hell is Tito Lopez?
The legendary Dr. Dre was surely asking himself that very question last summer before he was bombarded with bars by the hungry up-and-coming emcee. After his impressive introduction to arguably the greatest producer in Hip Hop history (wisely captured on camera phone for the world to see), the 24-year-old Mississippi native born Antonio Lopez Mouring – nicknamed "Tito" – subsequently hit the studio with the man responsible for introducing the world to future legends the likes of The D.O.C., Snoop Dogg and Eminem.
The refreshingly humble (but still supremely confident) newcomer recently revealed to HipHopDX just how he found himself recording with the good doctor immediately after that impromptu audition, (and why he's purposefully choosing to bypass using any of those Dre crafted tracks for his forthcoming major-label debut, The King's Speech, but will be heard atop the South's O.G. sound suppliers, Organized Noize, for a handful of the LP's cuts). Additionally, the former ballplayer shared his sideline story involving another 'Sip spitter making noise nationally, broke down how he plans to bring lyricism back to Southern Hip Hop, and concluded his conversation with DX by explaining just exactly why you should care who the hell Tito Lopez is.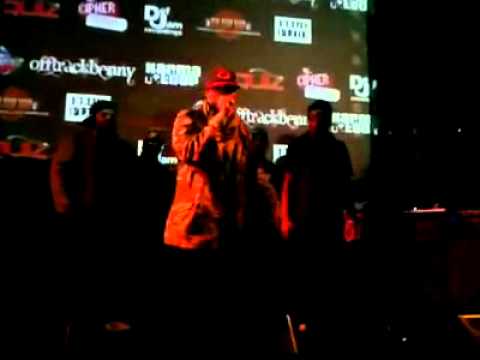 HipHopDX: Before we get to the mandatory [Dr.] Dre-related questions, I wanna know if what I read on BET.com about you hooping in high school against Big K.R.I.T. is actual factual?  
Tito Lopez: Yeah, yeah, no doubt about it. [Big K.R.I.T. is] from Meridian, and I'm from Gulfport, and so the basketball teams played against each other. I didn't know him personally or nothing like that, so I'm not fin to say we hung out on the sidelines or nothing like that. But, all the high school teams play each other from all over the state, so … I quit playing ball in 10th grade, so I'm not sure if he was even on the team [at that time]. I just know that we played that team. I knew of him through that, but I met him really in New York at Def Jam [Records' cipher in late 2010].     
DX: I just listened to your King with No Crown project and it doesn't really have that more definitive Southern sound that K.R.I.T.'s music has. Was that on purpose, to be that cat from Mississippi that doesn't sound like he's from the 'Sip?

Tito Lopez: Absolutely not, that's just natural. That's just the way that I rock. I'm reppin' the South all day, but I just think that's a secret weapon of mine. A lot of people ask me too "How come you don't have an accent?" To me, I don't know what the Southern sound is. I know like laid-back drums and things like that is more Texas. And I know everybody's expecting the bounce, but I think if somebody's doing something one way, why not stand out and do it different?
But, that just happened to be something natural, I can't say I sat out to be like, "Yo, let me be the one that sound like I'm from New York and I'm from the South." Nah, it's just the way I talk, the way I rap, the way I act. For years I thought that was a crutch like, "Why ain't I blowin' up? Maybe I need to get more laid-back and bouncy." But nah, just do you and be who you are and that shit will work out.
I thank you for listening to that album. That's one of my pride and joy projects right there.
DX: No problem. Now, switching gears to the obvious question: How did a relatively unknown cat end up finding himself spittin' directly to Dr. Dre?
Tito Lopez: I got flew out to L.A. Signed over to Capitol Records. So I was already signed before I met Dre. That's what I try to now start telling people, 'cause they all think I'm either on Aftermath [Entertainment] or like, "You met Dre, now you got a deal" and all that. I was signed for months before that, just working on my album, and I got flew out to L.A. just to see the [Capitol Records] building and just, ya know, courting type of shit: let's go out to lunch and shit like that. And my A&R, Steve, who signed me over to Capitol, he was just like, "Yo, you wanna go meet Dre?"
It was just a spur of the moment thing. I wasn't supposed to freestyle or nothing like that. He was just like, "Yo, you wanna go meet Dre?" I told him, "Yeah." I'm not fin to say no. [Laughs] I get in front of him, and we was just chillin', man, just for hours before we even got into anything with music we was just hangin' out. He was a cool dude. And I think I was supposed to be there to play him a couple joints – It was just supposed to be a "Yo, Tito, you can rap, here go Dre, meet him, and y'all just chop it up," and what it ended up being was that he knows talent and he was like, "Yo, I love the way you spit." I told him, "Yo, I'll spit for you acapella right now," just to keep that raw, live feeling. Like, you wanna hear records, but I can spit right now, let's go. I just take those opportunities like that. And he loved it. [Then he] put on some beats. And then he heard some of my real music, actual songs, and was like, "Yo, you got it, man. Let's go in the studio." And we just started working till early in the morning.
I've been back in the studio with him a few more times since that. So, it's kind of just a mutual respect. I let a lot of people know that I'm not really on Aftermath, I'm not his artist. I'm saying it now, but for the last few months I just let people think what they wanted to think. [Laughs]
DX: Just out of curiosity, how many songs did you and Dre work on after that first meeting, that first night?
Tito Lopez: We worked on about five joints, till early in the morning. But I also tell people that I've worked on some [additional] music with Dr. Dre. I don't know where it'll end up, that's on him. I was just in there for the ride.
DX: Were they solo joints for you, or were they like reference songs for Dre?
Tito Lopez: Uh … I wrote some … I'm not sure, man. I really don't wanna give out everything, 'cause whenever you talk about "Yo, I wrote 80 songs for Dre" they all get scrapped. Like, I know how it goes. So I'ma be like, "I just worked on some music." I'ma keep it cut and dry: he put on some beats and I rapped. [Laughs]
But even being honest, I really don't know. To be one hunnid, you rap a verse and you never know where it'll end up. With him, he's a dissector, so eight bars could end up on Detox of a 30 bar verse you spit. Just that he likes that and takes it. You never know what he's gonna do, so I just kinda let him take the lead in that. You throw on a beat and I rap, dog. That's it.
DX: Can you reveal if there are gonna be Dr. Dre productions on your debut album though?
Tito Lopez: Nah, there won't. But that's kind of by choice. I believe that I could. It was never even really in talks. I just worked with him on some joints. I believe I could; I could probably even take some of those joints I got. But, it's my plan to come out and get established on my own merit. Even right now it's like I'm cool with answering the normal Dre questions, 'cause I'm not mad at it. I mean, that's my biggest connection [to the masses] right now until I drop these records that I'm getting ready to drop and prove myself on my own merit. So I'm not mad at it, I can't be mad.
But I think when Nas came out with Illmatic he did it beautifully, and he said "My first album had no famous guest appearances, the outcome, I'm crowned the best lyricist." I can expect the same shit. [The Notorious B.I.G.] had nobody but Method Man on his first album, [Ready To Die]. So I just want people to get to know me. My first album, I'm already done with it, and it ain't even got like no famous guest appearances on it or nothing. Which I could have, I know a couple cats. But it's like, yo, let me do me, homie. Y'all fuck with me, see if you like what I'm doing. After that, we'll jump around and work with some people.
I think that's what Hip Hop is missing. I'm not mad at everybody getting money, everybody being happy, but everybody on some hold my hands, kum ba yah, let's all just get money and not compete-type of shit. And I'm not mad at nobody, but this is a sport, this is competition. So, everybody who doing they thing, I'm trying to beat y'all. I'm not trying to hang out with you niggas.  
I came into this muthafucka like I don't need no friends, I'm just in this muthafucka to spit and represent where I'm from. 'Cause they don't give Mississippi no credit, they don't give us at the bottom no credit no more, they act like the South can't rap no more. When really, we had Outkast and all that before we started doing the bounce shit. So damn, give us some credit, man. Let me bring lyrics back.
DX: Yeah, I get everything you're saying, I just was hoping for maybe like a Kendrick Lamar collabo or something.
Tito Lopez: You know what? I met [Kendrick Lamar] that night, and I just wanna say he's a real humble, cool dude. We chopped it up for five or 10 minutes, just listening to the beats. One thing about being in the studio with Dre, it's just carefree. There's no rules. It's just a few different rooms with beats playing and you just chill out and do whatever the fuck you want. It's a laidback atmosphere.
I met him, but I tried to come into this game keeping it 100, man. Like, I can't come in and be like, "Yeah, I know Kendrick. We best friends and we fin to make a joint album." I can't lie about none of that; I pride myself on just being 100.
I'm not famous. I'm none of that, until I get ready to master this record – which I'm going to do today – and drop it, which is gonna be incredible. But yeah, Kendrick is cool, man. I will say this, there's only maybe a handful, if that, of these new school dudes that I really would love to work with, and he's one of 'em. Everybody else is kinda on some shit that I'm not on.
DX: You know there are gonna be Kendrick Lamar fans, as well as folks who still want Detox to surface, that are gonna be a little aggy about hearing of Dre diverting to donate any of his time and attention to another newcomer. So what would you tell those skeptical of this Tito Lopez cat to ensure them that you are deserving of the good doctor's energy?
Tito Lopez: All they gotta do is Google it, YouTube it, check out the work I've been putting in for years. Like, I always said that anybody can say what they want until they hear the music. Nobody can tell me that I don't deserve to be here.
One thing about me that's kind of a blessing is that I skipped the middle-man. Just last year I was in my bedroom making music, making mixtapes – and actually, I got about 10 mixtapes. That King with No Crown is a straight album [but] I was putting out shit for years [before that]. And I can't lie like I wasn't tying to blow up just like Drake and all these cats off of mixtapes and be famous. I was trying to do that, it just didn't work out that way. Sometimes legendary takes longer.
That's one of my things is that I always wanted to keep doing those tapes and build up my rapport with a lot of websites and keep putting out content so later down the line they can say that I put in the work. I mean, I'm not really in it for nobody's approval. I love to do it, period. So, anybody can say "Aw, he don't deserve this, he don't deserve that." Or, "Why is Dre fuckin' with him?" Ask that same question to yourself in another light: Why is Dre fuckin' with me? Obviously I'm doing something right.