Through all of the years in DJ Whoo Kid's career, he's been involved in the careers of several emcees. During a video series for ThisIs50, Whoo Kid decided to speak on some interesting events he's been a part of. In the latest clip, he talks about his work with Kanye West before West's now infamous car accident and before his rise in the music industry.
In the video, Whoo Kid talks about how Kanye tried to impress Ludacris, only to have Luda pick a different producer's beat.
"It was me, Beanie Siegel, Kanye and 3H. We were all in the studio and Luda was in town. He fucking came to the studio and was like, 'I gotta go to fuckin' L.A.X. so I gotta do the verse [quickly].' So, what happened was Kanye saw Luda and he's a fan. So, Kanye goes in the booth and he's rapping [mimics Kanye]. Like, he was rapping for like an hour. Luda didn't know Kanye that well at the time so Luda was like, 'What the fuck is going on? I came to do this song. Yo, Whoo Kid, I'm here to do your shit. I'm out of here.' I got nervous because I really wanted to get this shit done. I was like, 'What? You leaving?' I ran in there like, 'What you doing, [Kanye]? Get out there and play that beat, yo!' So Kanye's looking crazy. What made it worse is, by the time he got out there, Luda picked a Red Spyda beat."
Whoo Kid says he wasn't really impressed with West's rhymes "at the time," but filmed him to get Kanye away from Ludacris. He shares that Kanye filmed a few of his College Dropout verses, before getting into his car. According to Whoo Kid, he got into his car "heated." A few moments later, Whoo Kid says he heard that Kanye West was involved in "the accident."
Whoo Kid says he felt he angered him, possibly causing him to drive with speed. "Life is fucked up," he added.
In the videos filmed by Whoo Kid, West also said he was ahead of his time with fashion and predicted that he would be at the top of the game with Jay-Z. More from the interview can be seen below.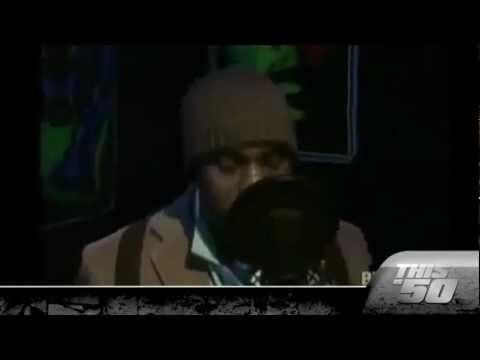 RELATED: Whoo Kid Talks About Getting Fired & Smacked By 50 Cent