Skinny jeans and synthesized beats came to symbolize Hip Hop in the latter part of the '00s as the culture embraced a retro sound and style reminiscent of the 1980s. Now many cultural observers are predicting that the next what-goes-around-comes-around movement in Hip Hop will be a revision of the grittier music and garb that defined the 1990's, redesigned by and for the generation born into the decade that utilized baggy clothes and boom-bap beats to define its time.
There was maybe no better visual and audible representation of that '90s swag than Das Efx. With their Timberland boots, oversized jeans and Army apparel, Drayz (a/k/a Krazy Drayzy) and Skoob ("Books" spelled backwards) embodied the look of an era while they redrew rhyming boundaries with their innovative iggedy-suffixed spitting atop an unashamedly "Sewer" sound. And so a renaissance of the steez Das first displayed for their breakthrough single and video, "They Want Efx," exactly 20 years ago has proven perfectly timed for 2012 and for the forthcoming debut solo album from Drayz entitled Showtime.
During a rare break from Das Efx's incessant touring schedule, the New Jersey native (and current ATLien) took time out to speak with HipHopDX about his first foray as a solo artist (and reveal whether or not Drayz's debut signals the end of his working relationship with Skoob). The man born Andre Weston also shared with DX how next month's Hit Squad reunion show came to be (and what he thinks about longtime adversaries K-Solo and Keith Murray being in the same space again). One-half of the Squad's other tag team additionally revealed for the first time ever why diggedy Das were not included in the recording for the crew's timeless posse track, "Head Banger."
HipHopDX: You ready for a quick interrogation?
Drayz: Yes I am. And for the record, this is officially my first solo interview. How 'bout that?
DX: So, when you say solo interview, do you mean that there's some sort of split in Das Efx, or just your first interview as a solo [artist]?
Drayz: Um, you know what, man? I don't even wanna say there's a split, I just wanna say that there's a natural progression in Das Efx. You feel me? If that makes any sense. I think what I'm doing is no different than any other duo or trio in Hip Hop or in music in general is doing. For instance, I just got some information over my email [that] J-Ro from Tha Alkaholiks is out there doing him. It's no different. B-Real goes out and does stuff, but he still rocks with Cypress Hill. So that's kinda what I'm doing.
DX: So are you and Skoob still touring together …?
Drayz: Definitely. We're about to leave February 1st for about 20 days to run through Europe – basically Germany. And, we just came from China.
DX: Oh, word. I just wanted to make sure there wasn't some personal rift between y'all. When I heard about you putting out your solo stuff, I was concerned.
Drayz: I appreciate the concern, my brother, but while we're waiting to figure out how and when we'll do the next Das Efx album I think it's only fair to myself and the fans that are waiting to give them at least something that's reminiscent of Das Efx.
DX: Now, you said you're gonna be spending the first three weeks of February touring in Europe. I understand when you get back, there's gonna be a Hit Squad reunion show. Tell me how that came to be.
Drayz: That came to be through – I got a call out the blue from Parrish [Smith] from EPMD, and he asked exactly what was my schedule like. I let him know I was free on that date. I believe it's the 24th of February. And, just from there one thing led to another. I spoke to Redman. He said yeah, he's on board. I heard through the grapevine [Keith] Murray and my man [K-]Solo's on board. Me personally, I think it's long overdue. I'm actually waiting on a call from [DJ] Scratch to work out some particulars.
DX: Wow. Are you ready for K-Solo and Keith Murray to be in the same spot at the same time? [Laughs]
Drayz: [Chuckles] Yeah, definitely. I think actually what we need is some VH1 video cameras there, 'cause this should be very, very interesting for Hip Hop.
DX: When's the last time you been in the room with any of these guys?
Drayz: My last show with EPMD was probably about two years ago, in Florida. Solo and I speak maybe once a year. Solo's always been a cool dude, so he's always reached out to me. Last time I spoke to Murray was through Canibus. I know him and Keith Murray have a relationship, so … But um, there's no animosity between none of us. Whatever was going on between Hit Squad and Def Squad, in my eyes, was a bunch of 20-year-old guys trying to feel themselves. But right now we're all grown men trying to go out there and just provide great music and great shows.
DX: Did you speak to E after his heart attack?
Drayz: Actually, I have not spoken to [Erick Sermon]. I spoke to [PMD] about Erick, so he assured me everything was cool with E. And, you know, I'll see him the night of the show.
DX: Just out of curiosity, have there been any discussions about doing more of these Hit Squad shows?
Drayz: In the air, yeah. And I think what's gonna happen is once we all tear down the show in New York at the Best Buy Theater, then it's really gonna show us that we need to do this. I was just telling Scratch that I have promoters just sitting in Asia and sitting in Europe like, "Hey listen, when the Hit Squad is ready and Def Squad is ready, let me know when you guys wanna run through." So I think we need to do that.
DX: Any speculation if this reunion on stage is gonna lead to a reunion in the booth [for] some Hit Squad songs?
Drayz: Your mouth to God's ears, as they say. I mean, Dray, he's just a phone call away. So, I'll pitch it and we'll see if anybody swings at it. But, there's no reason why [we can't]. We still have a friendly grudge against P and them for not having us on that one record, "Head Banger." So I think we should do a "Head Banger Pt. II" with Das Efx on it. I think that would be stupid.
DX: Why wasn't Das Efx on "Head Banger"?
Drayz: I just think scheduling. We were doing things, and everybody was kinda busy back during those days. And, it was a lot of a hangin' out thing. If we happened to all be in the studio hangin' out, [songs like] "Cummin' At Cha" came about and so on and so forth. But it's definitely overdue, man. All of us need to be on one big record.
DX: Yeah, definitely. Now, you said you and Skoob are still touring together but you're doing your solo project. Is Skoob gonna be doing one of his own?
Drayz: I'm not really sure. I'm not really sure what Skoob has going on. What we tend to speak about is the Das stuff, and once we leave each other's presence – I know he's always doing music, I can probably speak and say that much. [But] I'm not sure what his day-to-day plans are though. For me, I just know it's 2012, I gotta go.
DX: Speaking of that urgency, a year-and-a-half ago you told me for Das Efx's feature interview with HipHopDX that there was gonna be a new Das Efx album in 2011. So what happened?
Drayz: Well, that speaks exactly to my point. What happened is – just when you have two people and scheduling … First of all, we don't both live in – well I don't live in New York anymore. I don't wanna use that as an excuse, but we were able to just be in the same room when we were both in New York and just go through beats and just vibe. And plus touring and okay, we just came back from the road and people need time to recuperate. So before you know it six months would go by, and before you'd know it another six months would go by. So I also took note of that like, "Yo, I cannot keep [waiting to record new Das songs]." And you're not the only one that realizes that, the fans, they're like, "Hey Dray, you just told me 2011." So I'm like, you know what? I got 30 songs I'm sitting on here solo, why don't I just put these damn songs out and just see what happens.
DX: Why are you calling your album Showtime?
Drayz: 'Cause that's where I come from, and that's what Hip Hop to me is, it's showtime. If you know Das Efx, we give one of the better shows, I feel, in Hip Hop. Coming up under EPMD, they taught us how to put a good show down. So if you see a Das Efx show, that's what we do, we give great shows. Busta [Rhymes] likes to run around like he's one of the last Mohicans [when it comes to energetic stage shows], which I commend him for because we come from the same era: eye contact with the crowd, call-and-response. Let's not just walk across the stage and be boring rappers, let's jump in the crowd. So, Showtime for me lets my core fans know, yo, it's on, it's showtime.
DX: And some specific questions about the album: who all you got behind the boards for it?
Drayz: What I tried to do with this album is – just from traveling the world, man, there's so much talent out there producer-wise. So what I tried to do was work with some of these guys that have always been wanting to get on a Das Efx project. And frankly, some of these guys on this Showtime album they have no idea who Das Efx is. How surprising is that? Not very, considering the state of Hip Hop. So, they're all based around the [globe] and if I threw names out at you, you probably wouldn't recognize 'em except for maybe one guy named BattleRoy, who's done some things here and there. But for the most part, the names are just up-and-coming young guys, but they got that boom-bap feel.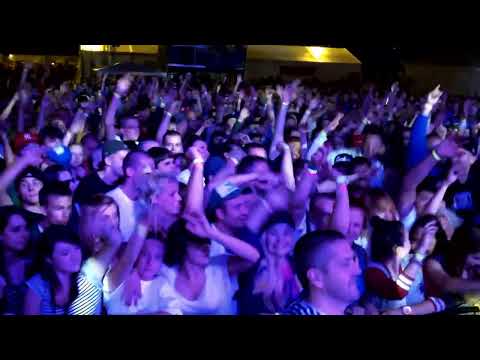 DX: Following up on that, is the sound of the album mostly grimey like "Two Turntables" or more synth-y like "Die Like This"?
Drayz: Let me just clarify that too – I'm glad you asked that – "Die Like This" was not part of the Showtime project. What I was going for with "Die Like This" was a whole 'nother project, a whole 'nother sound I was working on. Like I said, I have 30 songs here. So for "Die Like This" I was trying to see what I could do, how the fans would react. And, you don't have to hit me over the head with a brick, if my fans are like, "That's not what we want from you," I have to circle the wagons with my little team over here, 'cause I'm all about giving the people what they want. I come from [a fan's perspective] anyway, even though I understand as an artist we wanna grow and try and do new things. So to answer your question, the Showtime album is gonna be strictly gritty, strictly '90s-sounding Hip Hop.
DX: You gonna have any additional '90s dudes rockin' on the mic wit'chu or is this a completely dolo album?
Drayz: As of now, my only feature on the album is gonna be M.O.P. That's my ace in the hole right there. We go back from Das days. We did another joint with them back in the days, ["No Doubt" on Generation Efx]. So, I reached out to [Lil] Fame. He assured me [that is gonna happen]. I'm actually waiting on them to just get in the studio and lay their parts. My part is laid, and they know my deadline, so my man Fame keeps hittin' me up [like], "I got'chu. I got'chu." They got the tracks, [but] I know they're busy dudes, so cross your fingers. Those are my heavy hitters on the album and it's gonna be stupid.
DX: So if you're still waiting on M.O.P., do you have a tentative release date for the album?
Drayz: What I would love is to release the album … sometime in March. I'm shooting two videos. I'm in the process of working on that: one for "Put 'Em Up" and one for "Two Turntables." The [latter] is gonna be an homage and just show respect to a lot of the deejays in the game like [DJ] Scratch and [DJ Premier] and Kid Capri and Pete Rock.
DX: What about ya man [DJ] Rondevu? You gonna show him gettin' down?
Drayz: That goes without saying. [DJ] Rondevu, he's my left hand, so he's always gotta be in there.
DX: You got a label behind you for Showtime or are you just gonna put it out to iTunes and Amazon on your own?
Drayz: What I'm doing is I'm sitting by the phone right now waiting for a callback from one of those people, and if that doesn't go down, I'm gonna do just like you said: do an iTunes thing. But, ideally I would love to go through a distribution company and maybe just mainly direct [a physical release] towards Europe. And why Europe is because Europe has been great to us. So I would love to wrap this up in a bow and present it to my fans here in the States but more so my fans in Europe to say "Here guys, you guys really love boom-bap, you always want boom-bap, you never want anything else, this is from me to you."
DX: That is saying something: that you guys can sell out shows 20 years later in Europe but you can't do that here in the States.
Drayz: Exactly. That's a whole 'nother conversation. Why is that? I mean, I'm not the smartest guy to ask, so I don't know why that is.
DX: It's a whole new game now; you can finally record and release music without a record label's interference. But without that advance money all the costs – and potential losses – are on you and you alone. So with this new musical landscape, why do you still wanna release new music? Why not just tour with your classics and keep it moving?
Drayz: Because for me music is like – I can equate it to wearing clothes. My fiancé, she's into fashion, so we always kid around with [comparisons of] music and clothes like that. Because, who wants to wear the same outfit every friggin' day? I mean, I love "Real Hip Hop," "Mic Checka," "They Want Efx" and count 'em on down, and I got some hot jeans here but I got another pair of hot jeans that I wanna wear too. So I don't wanna always necessarily keep doing those songs and that's it. I wanna do those songs plus some new shit. So that's all these new songs represent to me: just some new clothes, a new outfit. And you always feel good when you got new clothes on.
Purchase Music by Das Efx