VladTV recently caught up with the legendary DJ Premier to talk about his production influences. During the interview, Premo talked about why Marley Marl and Rick Rubin are two of his favorite producers of all time. The Gang Starr beatmaker said that he especially connects to Marley's music, and that in his opinion, the Juice Crew producer can do no wrong.
"Production-wise, really, it's a tie, because I'm a Marley Marl fanatic and I really love what Rick Rubin did with Def Jam as far as production [being[ a guys that was just intrigued by the culture and knew how to make it sound like he made it sound with LL [Cool J] and the Beastie Boys, and to even have the balls to sign Public Enemy," he said. "But Marley Marl just did it for me. It didn't matter what he did; like when Big Daddy Kane said, if he'd fart on a record it'd still sound good. Marley could do no wrong. It didn't matter if it was Kool G Rap's album Road to the Riches, if it was In Control Vol. 1, I don't care if it was MC Shan's Down By Law, if it had 'produced by [Marley Marl]'…Marley Marl is just the God to me."
As the go-to selector for the Cypher series of BET's annual Hip Hop Awards, Prem also discussed his dream line-up of emcees. Amongst names like Rakim, KRS-One, Nas and Bumpy Knuckles, Premier said that he'd like to hear Dr. Dre jump on the mic. Although he admits that he knows that Dre looks more to ghostwriters for his lyrics, Prem says the California emcee's delivery simply kills it.
"Definitely Rakim, definitely KRS-One, even though he's done it before, but in my ultimate cipher, definitely Chuck D. Ice Cube, even though he's done it, but again, [this is] just excluding the whole BET thing," he said. "I'd like Dr. Dre in a cipher. I know he doesn't really do the writing, but he's so dope when he delivers and he knows how to put the right attitude [on the words]. Everybody from the D.O.C. to [MC] Ren to Ice Cube, whenever they write for him, he completely turns it into Dre, where it feels like the entire lyrics are his. I like to see Jay-Z in a cipher, Nas, of course, and Bumpy Knuckles. Guru would've loved it, Guru loved to rhyme, so he's automatic."
Check out the full interview below.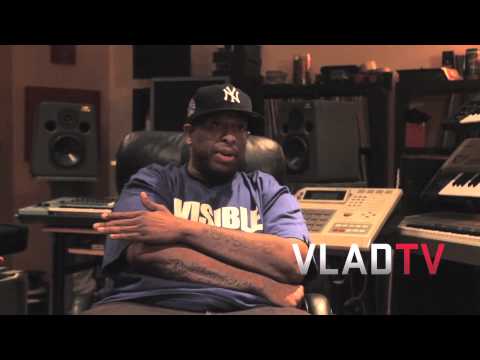 RELATED: DJ Premier Talks Meaning Behind Name Of HeadQCourterz Studio