During a recent interview with DJ Vlad, Fat Joe defended V-Nasty and The White Girl Mob for their use of the n-word. He also spoke on Reverend Al Sharpton's use of the word, saying even he has used the term in the past.
When asked if he followed The White Girl Mob's Kreayshawn, Fat Joe said he has only heard her single, "Gucci Gucci."
"Nah but I love her song, 'the Gucci Gucci Gucci.' I think they have something to say. That's what's dope about Hip Hop."
Soon, the conversation went into V-Nasty's use of the n-word, which Fat Joe defended.
"Unfortunately, the word started as a racist thing many, many, many, many, many years ago. We don't view as that no more…How can we tell everybody 'Hip Hop is for everybody?' How can we really tell everybody, 'If you white, Hip Hop is for you? If you Chinese, Hip Hop's for you? If you fuckin' Arab, Hip Hop's for you?' We say 'nigga' all day. They think that's what's cool. So, if they like, 'Yo, what's up my nigga?' Oh, shit. You a racist. You know they didn't really mean it racist. You know [V-Nasty] ain't tellin' her 'Yo, what's up my nigga' racist. She's sayin', 'What's up my nigga!'"
The Terror Squadian then said he had a bone to pick with one of the most public opponents of the n-word, Al Sharpton.
"The craziest shit," he noted. "I'ma give you some breaking news. The craziest shit…Reverend Al Sharpton…This is some shit. I shouldn't be telling you but Reverend Al Sharpton made a whole campaign against the word nigga. I swear to my mother drops dead, the first time I ever met Reverend Al Sharpton was with Don King. Don King said, 'Reverend Al, do you know Fat Joe?' He said, 'How I'm not gonna not know the realest nigga in New York?' It's the first thing he told me, ever, in the history of mankind. 'That's my nigga, Fat Joe!' I was mindboggled with the nigga shit."
He did however acknowledge that some may still be offended by the term being used by anyone.
"It's fucked up. It started out racist, somebody made it cool…I'm sure, I'm willing to defend [V-Nasty]. I never met her in my life but I'm sure she meant it as a term of endearment. Now, if you old school and you grew up when segregation, you grew up when they was throwing water on people, and Rosa Parks, then you take offense."
He also defended his use of the term saying, "My whole theory about it is, I'm Latino and I can't say nigga? Blacks and Latinos is the same shit."
For more from the interview, check the video below.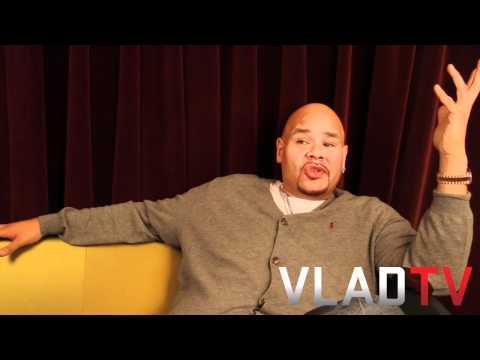 RELATED: V Nasty Defends Use Of N Word; Vows To Not Use It In Rhymes