Last night, Kendrick Lamar enlisted Busta Rhymes to grace the stage at a sold-out gig at The Music Box in Los Angeles, California.
During the set, Bus-A-Buss appeared halfway through K. Dot's rendition of "Rigamortus," segueing into his verse from Chris Brown's "Look at Me Now."
After greeting Kendrick, Cash Money's latest signee explained how he reached through to him before debuting the remix to "Rigamortus."
"I reached out to Kendrick one day. I'm on my little internet shit, I'm in the studio, I'm just getting beat in the head about Kendrick Lamar. So I go online and i'm looking and shit and I'm trying to understand what's going on with the homie. So i hear this 'Rigamortus' record," he said. "I said that record 'Rigamortus' that you've got, you've got to make a little room for me to slide on there. I'ma be honest with you – it's new, it's fresh, it's hot on the press. I didn't get the opportunity to learn the verse yet, but I think they should hear the fact that we have this thing recorded already."
Watch the clip below (via LA Leakers).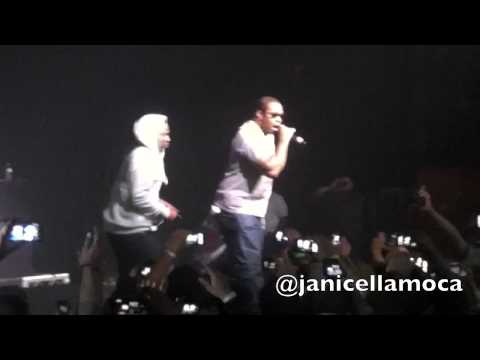 RELATED: Kendrick Lamar Talks Pressures Of Recording, Humility