There are many intersections between contemporary Hip Hop music and visual art, as well as mutual points of inspiration between the two disciplines. With graffiti being one of the original pillars of the culture, the two have been intertwined since the early days of Hip Hop itself.
While many artists such as Kanye West — who helped bring the work of artists like Kaws and George Condo to a mainstream Hip Hop audience — have manifested their love of fine art into their work, there are many visual artists who do the opposite. They use music, ideas of celebrity, and the many complicated facets of being a black person in today's society to help tell their own unique stories and truths through their respective artistic media.
In honor of Black History Month, HipHopDX has compiled a list of 20 artists whose work is inspired by Hip Hop, creating truly unique and captivating pieces of art.
Madina
"Most of my heroes don't appear on no stamp" Chuck D >> http://t.co/eYZf2tt5jj << Lyrically inspired #design pic.twitter.com/xUxznyNhcp

— Madina Design – HipHop Threads for HipHop Heads (@madina_design) December 10, 2014
Madina, a graphic designer and illustrator from the U.K., is heavily influenced by the early days of Hip Hop. His stamp collection is a clever — and dope — play on Chuck D's lyric from "Fight The Power."
Loyiso Mkize
What a privilege having @lupitanyongo and @danaigurira last night at the @blackpanther premiere in Monte Casino. In awe of such powerful women taking centre stage and in effect further defining African Renaissance.
WAKANDA FOREVER!#BlackPantherMovie #blackpantherpremiere pic.twitter.com/gEmtpdVEPK

— loyiso mkize (@loyiso_mkize) February 17, 2018
Mkize is a South African artist/illustrator — currently residing in Cape Town — who is best recognized as developing the country's first black comic book hero, Kwezi. Recently he was tapped and commissioned by Disney to create a piece for Black Panther.
André LeRoy Davis
R.I.P Big Pun#theartofandreleroydavis #aldre #thelastword #hiphop #bigpun #rip pic.twitter.com/V1AZ7P73G2

— André LeRoy Davis (@ALDreDay) February 7, 2016
André LeRoy Davis is an accomplished OG in the game who built his notoriety with monthly "The Last Word" illustrations in The Source Magazine between 1990 and 2007.
Kehinde Wiley
Putting the final touches on a new #painting #kehindewiley #conceptualpainting #artstudio pic.twitter.com/IxT9r4LjeW

— Kehinde Wiley (@kehindewileyart) March 3, 2014
New York-based fine artist Kehinde Wiley is a distinguished portraitist who juxtaposes the "traditional" styles of the masters with a regal representation of urban, black and brown men and women.
Martin Askem
ASKEM Art @ Merlot Moments Exhibition With Big Daddy Kane. Art You Can Hear #artyoucanhear pic.twitter.com/XoGEymGThF

— Askem (@A5KEM) February 21, 2018
Painter Martin Askem, the principal artist of Chuck D's "This Day in Rap and Hip-Hop History," has one of the most extensive collections of Hip Hop artwork, sitting at almost 500 pieces.
[apple_news_ad type="standard"]
FRKO
ATL artist FRKO rose to prominence for his distinct illustration work; most notably, his work for Action Bronson's Mr. Wonderful, and Gucci Mane's "All My Children." Recently, he was behind the artwork for EarthGang.
Alim Smith
Idk about the movie
But PAC is the goat #2pac
Prints available at https://t.co/PhjCCkNuIf pic.twitter.com/zM9E2opXLL

— Alim Smith (@yesterdaynite) June 17, 2017
Alim Smith's work pulls many of its themes from Hip Hop, pop, and meme culture, to which he applies a unique impressionist take — kind of like a next-gen Picasso.
Joseph Buckingham
Joseph Buckingham's roots in Hip Hop are as deep as it gets, having designed the cover for De La Soul's groundbreaking De La Soul Is Dead, as well as their single "A Roller Skating Jam Named Saturdays," among a long list of other credits.
Kojo Owusu-Kusi
94' Squad
Art by @CITIZINS https://t.co/o7ZQbKXMkH
CITIZINS@gmail.com#CITIZINS pic.twitter.com/89vyXhs2os

— Emperor Quarantine (@citizins) September 8, 2017
Kojo Owusu-Kusi, who is of Ghanian descent, intersects Hip Hop and traditional African roots in his multi-media work, highlighting themes of blackness and cultural history.
Melissa Falconer
Happy Birthday to the boy! @Drake ? Yuh dun know eh ?#drake ? pic.twitter.com/3S6Oy5WuLu

— M.Falconer (@MelissaFalconer) October 24, 2017
Toronto-based artist Melissa Falconer considers herself to be a pop artist "for the culture." Her portfolio of work traverses portraits of musicians and culturally significant leaders/icons.
Eric Aidoo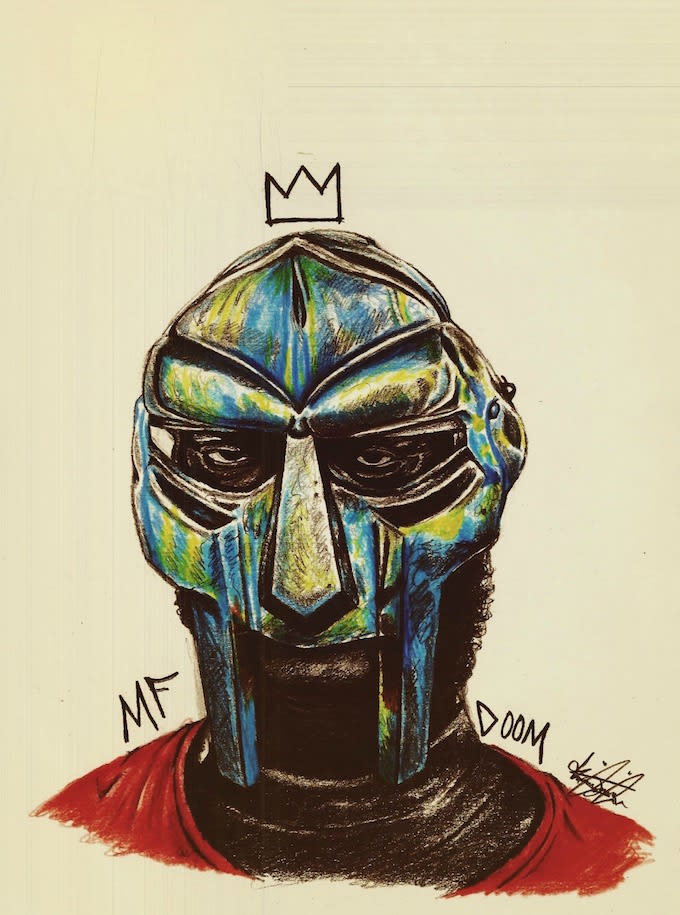 Bristol, UK, artist Eric Aidoo (aka Just Scribble) rose to blog fame after having his work recognized by many of his subjects. He's drawn all sorts of rappers, including Kendrick Lamar, Snoop Dogg, Rick Ross and Wiz Khalifa.
[apple_news_ad type="standard"]
Dope Art By Ray
Detroit-based painter Rachel Douglas' work runs the gamut of abstract to various styles of portraiture that pay respect to legends of Hip Hop and sports.
TrillART
Elevation to new Heights is the goal…
#2018 we're Going Up ?#TrillArt #MusicVideos #VideoProducer #director #Art #Trill pic.twitter.com/4sM4EVWk73

— IG: TrillArtPrevost (@TrillArt) December 21, 2017
TrillART is an artist who isn't primarily bound by one medium. In fact, aside from his dreamy illustrations, he's also an accomplished video director with a huge list of credits under his belt.
PSIMDOPE
.never seen me draw before? here's a clip of my speed drawing of @QualityOfficial, you can find the full video @ https://t.co/qrkceouRJr pic.twitter.com/kDHIeBLxO1

— Fluff Daddy (@PSIMDOPE) July 14, 2017
Brooklyn-based illustrator and graphic designer PSIMDOPE has had her unique style featured by brands like Complex, Under Armour, and Green Label.
Lord Akeem
#PublicEnemy draw by #LORDAkeem cc @MrChuckD pic.twitter.com/i7ZBu0LoYJ

— May Meizoentje (@MayleenTheOne) July 22, 2014
France-born street artist Lord Akeem's work includes ink-and-acrylic drawings in a stencil style, as well as hyper-realistic portraitures of Hip Hop's finest.
BMX Beesy
BMX Beesy's work has a youthful air about it, entrenching cartoon and comic book culture from the '90s with Hip Hop and urban cultural references on both canvas and clothing.
Barry "Frank B" Duperon
Atlanta painter Barry Duperon's work is a combination of stylized urban illustration style and intersections of contemporary street/urban culture with themes of African roots and black heritage.
Fahamu Pecou
@FahamuPecou #BLACKMATTERLIVES on view now thru Nov 12 @LyonsWierGallery pic.twitter.com/fAEBiqJ5Ew

— Lyons Wier Gallery (@LWGallery) October 21, 2016
Fahamu Pecou's work is an ongoing commentary on pop culture. It engages modern representations of black masculinity and identity by combining traditional aspects of fine art and Hip Hop.
DConey
Matter a fact @iamcardib I STILL have this for you from when u came to #detroit – I want to give this to you personally! Where am I flying to #dontworryillwait https://t.co/GJvNncSaAb #CardiB #CardiBchallenge #BardiGang @OffsetYRN #OFFSET #rt #hmu pic.twitter.com/fKa2KPoS9u

— DCONEY™ (@dconeyart) January 20, 2018
Detroit visual artist and vlogger DConey's work is influenced by a blend of social injustice, Hip Hop, and black culture. He does dope portraiture, and often works on a larger scale by painting murals.
Art By Nato
HBD to the Greatest! Before its over lol @JColeNC#ArtistAtwork #ArtistAtwork #JCole #JermaineCole #dreamville #Hiphopart pic.twitter.com/Xdwr1cA1aB

— ArtByNato (@dnjACE_92) January 29, 2018
Painter Douglas James Jr. — better known as Art By Nato — explores themes of black iconography, positive leadership, and uplifting self-love, while also leaning on his love of Hip Hop. Many of his pieces have a collage aesthetic, with bright bold use of color.
[apple_news_ad type="standard"]