DX Premieres Twiztid's New Album Single
Shortly after releasing the first single from their upcoming A New Nightmare album, due out on July 30, Twiztid's DX premiered second single, "Falling Down," which features Vancouver, Canada supergroup Swollen Members takes the title for this week's top ten. In an exclusive interview with the site earlier this month, the painted-face duo noted that besides Swollen Members the album will feature "a lot of guests…we have legends, fan favorites, up-and-comers, and artists that we are flat out fans of." Group member Monoxide also described their unconventional, grassroots success as a product of a direct-to-fans approach: "Our merch numbers alone are unbelievable and the scary part of it all is that you've never heard of us. Never any major video, or radio play and we've still sold over 1,000,000 CDs. All by staying true to ourselves regardless of what is accepted. We like [Air Jordan shoes] and cars and bitches as much as the next person, but we also loved Horror movies, comic books, and other stuff like that. Instead of talking about what everyone else is talking about, we created a different lane. And for some reason it's just not as noticed or accepted by most media."
Another Tech N9ne Single Does Well With Some Collaborative Help
While the song needs little explanation, Tech N9ne described the critic's remarks that spawned his latest single, "Fragile," in an interview with HardKnockTV earlier this week: "When you put shit like that in the air it's negative man and I don't need that. 'Cause everybody's looking at me, but at the same time mothafuckas are scared of me…because I'm kinda to the left sometimes. But I think the real shit will always shine, but I told him 'thank you' for inspiring that wonderful song." The critic at-hand described Tech's sound as "gimmicky" and "redundant" despite the rapper's wonderful stage presence (an evaluation the Kansas City emcee obviously didn't like). The song's lyrics attack the issue of rap critics head on, and, if Tech had it his way, they wouldn't have much to say: "Need to be given the remedy and why? / Critics are really the enemy and I / Can't stand the way they slam today's gifted / Effin' incredible, get fanned away with grands to pay / This jam Wale scripted / Deaf and impeccable." Kendrick's verse and the Wreckonize sung hook all surround the same issue of an artist's sensitivity to criticism in the modern world. "Fragile" is another cut off Tech's upcoming Something Else album, also slated for a July 30 release.
The A$AP Mob Gathers For A$AP Ferg's New Video
The entire A$AP Mob parties down in a mansion in the latest video from A$AP Ferg's upcoming debut mixtape, Lord Trap. Ringleader A$AP Rocky joins Ferg with a guest verse on "Shabba," a song that pays tribute to Jamaican dancehall legend Shabba Ranks who had a penchant for the type of gold that Ferg and Rocky don throughout the video. Besides the Mob (and lots of booze and women), The Wire's Felicia "Snoop" Pearson also makes a cameo alongside Rocky in a short scene.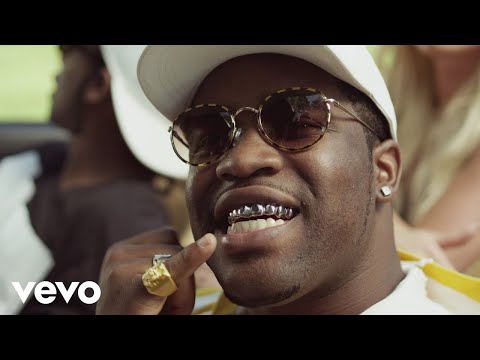 This Week's Top 10
1. Twiztid f. Swollen Members – "Falling Down"
2. Tech N9ne f. Kendrick Lamar, Mayday! & Kendall Morgan – "Fragile"
3. A$AP Ferg f. A$AP Rocky – "Shabba" [Video]
4. Jay-Z – "Dead Presidents 3"
6. The Weeknd – "Belong To The World"
7. Drake – "Girls Love Beyonce Remix"
8. R. Kelly, Birdman & Lil Wayne – "We Been On"
9. Detail, Birdman & Kendrick Lamar – "100 Favors"
10. Bone Thugs-N-Harmony – "Everything 100"
Related: Twiztid Speak With DX On Their Upcoming Album And Past Success