Hip Hop icon turned businessman Jay-Z chose to no longer hold his tongue when it came to criticism he's received recently in regards to his ownership percentage of the Brooklyn Nets. During his third show at Barclays Center yesterday (September 30), Jay-Z took a few minutes between songs to address the critics.
After speaking on how "historic" the opening of Barclays Center was, the rapper spoke directly to the audience about those trying to diminish his accomplishments.
"We still got a long way to go because everybody wanna diminish your accomplishment," said Jay-Z in a video posted on RapRadar.com. "When I look at the paper and I see them talking, 'Eh, he owns one-fifteenth.' First of all, I don't know where they get that number from. But I'm cool with it. I know it's not about me, it's about ya'll. What I mean by that is it's not personal to me. They know that if you see me standing here that you know it's possible to achieve great things…Don't let anybody diminish your accomplishments. It's our motherfucking time now."
Following his remarks, Jay-Z then asked the audience to put one middle finger in the air for those trying to hold them back and went on to perform "99 Problems."
Jay-Z will perform another five shows at Barclays Center before concluding with a show on Saturday, October 6.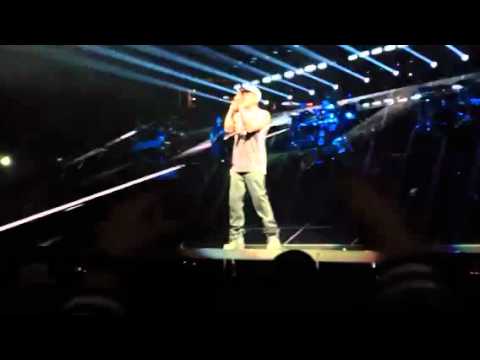 RELATED: Jay-Z Performs New Verse At Brooklyn's Barclays Center