A drink came flying from the stands. It somehow managed to hit Ron Artest, then a player for the NBA's Indiana Pacers. He had been lying on the scorer's table, seemingly trying to calm himself down after an on-court altercation with Detroit Piston Ben Wallace. But when the drink flew from the stands, so did Artest. The cameras couldn't quite keep up with the madness that would become know as "Malice at the Palace." But they did catch Artest racing towards the area of the drink-throwing heckler. Quickly, he grabbed a fan and had to be restrained. Coaches and other players rushed to that area, only to enhance the chaos as objects and fists were thrown in the commotion. The fight continued on the court as things spiraled out of control. Artest was suspended for the rest of the year, losing millions as a result.
Today, Queens, New York's Ron Artest still plays in the NBA but you won't find his name on any roster. He's changed it to Metta World Peace. He's said that the name change was a call for harmony in the world and has even won the NBA's J. Walter Kennedy Citizenship Award in 2010-2011 after extensive charitable work.
That's said to note this: It makes sense to look to Ron Artest's story for inspiration. That's likely why Chali 2na and and Roc C decided to name their newly formed group after the man. They call themselves Ron Artiste, the aforementioned story no doubt on their mind when they conjured the name. But they have names of their own.
Roc C established his name as an Oxnard, California emcee. He's worked with The Alchemist, Madlib and J. Dilla. Chali 2na became influential as a member of Jurassic 5 and temporary member of Ozomatli, bringing his underground status to great heights with his trademark voice. Both have been grinding on their own but this tandem says this is the best they've ever been. According to them, they bring the best out of one another, a trait sampled on their latest single, the Edo G.-assisted "Ron's Theme."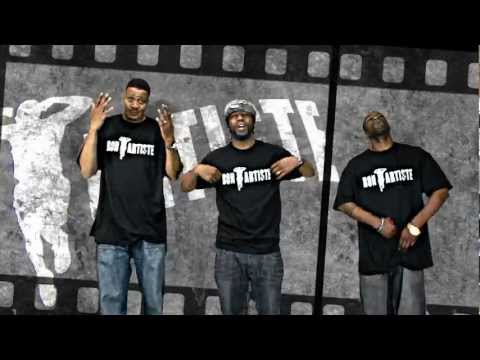 Recenlty, HipHopDX caught up with the duo to discuss the inspiration behind Ron Artiste, their chemistry in the studio and the features on their album. Roc and Chali also spoke about Hip Hop on the west coast, offering memories of the past while also looking into their futures. With Ron Artiste's R.I.D.S. coming soon, much can be said about the group and how their music relates to the basketball player but in the end, their music should stand on its own. Here's an introduction to Ron Artiste.
Chali 2na: Me and Roc knew each other from the scene, the L.A. scene, in passing but not personally. We always wanted to work with each other. Well, I know I did. He asked me, "Yo, man. Let's do a song." I was like, "Cool." Once that happened, listening to the chemistry, we wanted to do some more stuff. We started playing around back and forth until we had like five or six songs. We recorded a video for another song and while recording that, he was like, "Yo, this sounds like some intelligent but ass-kickin' type shit. You know what I'm saying? Gorilla Rap type stuff. We was like, "Kinda like Ron Artest, but Ron Artiste." That's how that was born.
Roc C: That's a good question. It's like the perfect sandwich. Without all the right ingredients, the sandwich will be good but it won't be the perfect sandwich. With 2na's style, people might think one thing because of Jurassic 5 or Ozomatli. The same goes for me. But when we work together, we pull the best out of each other.
DX: What allows you to bring the most out of each other?
Chali 2na: I honestly think it's the realness of it all. We don't let our status or reputation from previous things dictate the way we should treat each other, the world or this project. We complement each other in a way that relates to people who deal with day to day shit. I think it's a cool ass mixture and an unexpected mixture. That's also why we called it Ron Artiste.
Roc C: I think for me, with 2na being Chali 2na with all that he's accomplished in the Hip Hop world, this was an opportunity for me where I didn't want to disappoint. For me, I tried to make sure that everything from A-to-Z was on point. That's been my motivation.
DX: So you try to raise the bar for one another?
Chali 2na: Yeah, that's a good way to say it. In the end, it's all Hip Hop. Hip Hop is a competitive sport and you live it so it's one of those thigns where it's second nature to try to better yourself.
Roc C: The thing is, we're not trying to outdo each other but we are trying to do what we bring to the table the best we can. That's what we're capturing.
DX: So much goes into that name. What did you all think when Artest changed his name to Metta World Peace?
Chali 2na: It's a dope way to look at what we're doing. He changed his name to something he felt was life changing, world changing, thought changing. Somebody like Ron Artest, people out the gate will say, "Damn, I wouldn't expect him to do that, say that or even think like that." They try to pigeon hole him in a box but his intent was amazing, in my opinion. It wasn't bad.
Roc C: I think it worked! Who else could change their name and get the kind of reaction he got? He wanted to bring attention to world peace and helping people. If anybody else did that, people would have brushed it off. That's the impact Ron Artest has and that's what we're trying to bring to the table.
DX: Now, he changed his name but right when you thought he was Mr. Peace, he elbowed Oklahoma City's James Harden in the head so there's still some edge there. That's why it's intriguing that you went with that name, that symbol.
Roc C: Yeah, like 2na says, we're all trying to be a better person. We're all trying to further ourselves. But at the end of the day, you can't change your core, you can only add to it. At the end of the day, in one situation, somebody can flip their wig. It could be a rocket scientist, not necessarily a street person, but anybody can go through that.
DX: Now, obviously Metta World Peace is into Hip Hop and he rhymes also. Has he responded to the group or have you all tried to reach out to him for a possible collaboration at all?
Chali 2na: Yeah, man, we've been reaching out but it was a trip because all of what we did was unfolding during [NBA] playoff time. We've got people connected to him like the six degrees of separation situation. It's one of those things where we reached out but haven't necessarily talked to him yet. I really don't think he has a problem with what we're doing but if he do, that's a form of reaching out that I'd love to hear, too.
Roc C: I don't think he should have a problem because at the end of the day, we're just trying to expose him in a better light, not a negative light. There's a lot of Artesian out there in the world. We're just trying to have our voice heard. That's all.
DX: What can fans expect in terms of subject matter on the album?
Chali 2na: The whole outlook and movement is based on that randomness yet stability of a person like the brother Ron Artest. If you're looking at his career, you'll see the extremely intelligent situations as well as the blemishes showing a real, regular person. That's what's displayed throughout the whole album. There's some randomness that touches everything in an everyday fashion but with lyrical, hardcore Rap ruggedness. You can expect definitely a high standard of lyrical skill and content. We went from "I Will," where we're talking about internal conflicts that have happened throughout life that shaped us into the people we are to songs like "Follow Me," where it's more like different shades about how people are straying away from the path because they are misled. There's a wide range of variety of things we wanted to touch but it's all based on everyday living.
Roc C: It's controlled balance. It could just tip over at any point. It's like a nice ride. When you think we gon' go left, we go right. When you think we gon' go straight, we back up a little bit.
DX: Your first single and video features Edo G. What was he like to get as a feature and what was it like to collaborate with him?
Roc: Edo G. is a legend. As far as Ron Artiste, we wanted to get people that were unexpected. This was something people wouldn't normally see coming. That's what our combination was with Edo G. but I think we murdered it. I think we nailed what we was trying to accomplish.
DX: Who are the other notable guests to be aware of?
Chali 2na: Yessir. We've got people that came out the woodwork. We've got King Tee for legendary Gangsta Rap fans and Casual from the Hieroglyphics and LMNO from the Visionaries. We've got Oh No, our fellow Artesian.
DX: You guys have seen the West Coast Hip Hop movement throughout the years from the Good Life Café days to the Project Blowed era to today. You've seen the Fresh Coast movement and then the TDE movement. What has been the greatest moment you've seen in the independent Hip Hop scene in the West Coast.
Roc C: For me, I feel like we're finally starting to get our shine. I'm not just talking about me individually but the West Coast. When I was growing up, it was just like Too Short from the Bay, E-40 from the Bay or N.W.A. in L.A. so our cats from Oxnard, California wouldn't dare get a chance. So, if you weren't with those artists, it was hard to get a look. Nowadays, there's so much balance on the West Coast, people are finally starting to get their shine, from the younger generation to Crooked I to Chali 2na. Everybody's starting to get shine from the cats I looked up to all the way to the up-and-coming cats. That's what I love about the West now.
Chali 2na: One of the things that solidified it for me was seeing how the Good Life had Volume 10, who was an underground legend. It was blowing up. A brother like Ice Cube was sending cats down to the Good Life to videotape this dude. Eventually we watched Ice Cube's style change into a style that was extremely similar to [Volume 10]. I was like, "Oh! Okay, now we're really starting to get our props." I felt like we had established ourselves as something that was a force to be reckoned with. That's one of my greatest moments in underground Hip Hop.
Purchase Music by Ron Artiste
Purchase Music by Roc C
Purchase Music by Chali 2na
RELATED: Chali 2na & Roc C Form Duo Ron Artiste, Reveal "R.I.D.S." Tracklist