It's absolutely refreshing to see how seriously Sadat X approaches emceeing. From his on stage demeanor, to his emphatic conversation, to his still relentless rhymes – the Brand Nubian legend never sounds jaded or disenfranchised by Hip Hop's evolution over his 22 year career. As he does in this interview, X is quick to separate himself from bitter emcees of era's past, deriding the new generation's lack of whatever. The Wild Cowboy would much rather let his raps gather respect.
HipHopDX spoke with Sadat X on camera following his New Golden Era performance (presented by Music Class 101 and Bodega Cold Kutz) last night. Headlining a lineup that included Skyzoo, Torae, SonRay, and Fokis, The New Rochelle-native shares his thoughts on New York Hip Hop, producers he'd choose for a reunited Brand Nubian release, and explains why "there's no girl rapper that's better" than him.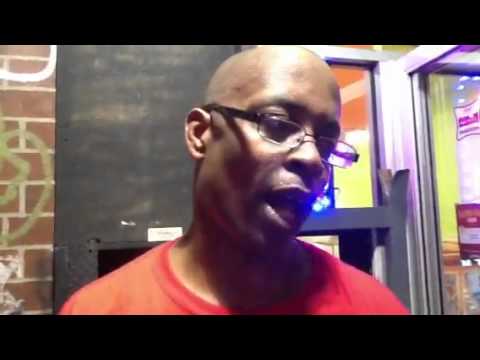 HipHopDX: I'm loving this joint "We In New York." It feels like a new New York anthem in an era where there seems to be a new New York. What was your point behind making "We In New York?"
Sadat X: Just to highlight some different things. Everybody's doing New York records, man. I wanted to do one, but I wanted to do it a little differently. I think I kind of captured that in the song. I just wanted to talk about different places, like when I talk about Katz Deli and Coney Island, and Crazy Legs and Mr. Freeze, and when John Starks through it on [Michael Jordan]. Just different things I added in there. Astoria. Avenue D. Just different stuff like that.
DX: Does it feel like a new New York in your opinion?
Sadat X: Yeah, man. There's a lot of young brothers coming up. That's good because it's a new energy. And these dudes are rhyming like New York. They're not rhyming like down South. There's nothing wrong with that, but they're keeping it New York.
DX: If I'm not mistaken, your name comes from Anwar Sadat the former leader of Egypt.
Sadat X: Well, it's taken from that, but it's also taken from the Nation of Gods and Earths – The 5 Percent Nation. I kind of took it from there. But Anwar Sadat, too, because he was an honorable man and he was trying to bring about peace. He was trying to make peace and he was struck down for that.
DX: Egypt's gone through a lot of changes. Did you pay attention to this Egypt revolution [at all]?
Sadat X: Yeah. [Hosni] Mubarak – they've got him in jail right now. I know people from Egypt and they said it's been kind of rough over there. I don't know too much of the actual politics of it, but I hope those people over there can find peace because there's good people there.
DX: [Your solo debut] Wild Cowboys started it off. Wild Cowboy II came out in 2010. In your words, what's the difference between where you were when you created Wild Cowboys versus where you were when you created Wild Cowboys II?
Sadat X: When I created [the first] Wild Cowboys, I was still kind of young. I was coming off that era. Money Boss [Players] was with me. Minnesota. Shawn Black. When I got older, a couple of dudes that was on that first album got incarcerated, going through their little problems. I lost a lot of those guys coming around on the second version. The first version, I had a couple more producers that I didn't have on this second version, but I'm happy with the second version. I did get to do something with my main man A.G. on there, so that made up for it.
DX: Is there anything you'd like to let people know? Where they can find your music? I see you rocking a "Wild Cowboys T-Shirt."
Sadat X: Oh yeah, these are my T-Shirts. I'm gonna have them out soon for sale – these, the Brand Nubian joints, the Low Life joints. We're gonna have all that together. We're gonna have the Brand Nubian joints with the Low Life cookie on them. It's gonna be like that.
What I want to bring out, too – like what I said on stage – when I see these shows and they have like 50 people ahead of me, or 100, or 200 people. But when I look at some of the 100 or 200 people they got, these are people that are rocking on stage with four or five dudes with microphones. I'm doing this by myself. Understand that: By myself. That means I've got to be physically and mentally ready. Thats why I go to the gym in the morning and be ready to be on the stage. So when they put somebody ahead of me like that…First of all, no offense, but there's no girl rapper that's better than me. I don't care who it is. We can battle for money. We can battle on their block. I don't think that there's no girl, pound-for-pound rhyming. Maybe the entertainment factor of it and shaking their ass part. But when we go and spit back to back, I don't think a girl should be placed ahead of me.
DX: What about somebody like Lauryn Hill?
Sadat X: Lauryn Hill is good for what she do. But I don't think she should be placed above me. If anything, she's about the closest one. Everybody else: negative.
DX: What about Rah Digga, though?
Sadat X: Rah Digga's rough and I love Rah Digga. She knows I love her. I can rock with Rah Digga. I take it back. I don't say that they should be placed above me. It's just that there are a couple of females that are placed above me and that's negative. There's a couple of dudes that's placed above me that's negative. If you're on stage and it's not just you with a mic, and you've got your man over there with a mic and this dude over here with a mic and your deejay's rhyming with you, that don't count. This is light, what I did today. When I go to Europe and Japan, I'm doing two hours by myself – 30 plus songs! Fuck with that.
DX: Word up. Will we ever see it: Grand Puba, Lord Jamar, Sadat X. Brand Nubian…
Sadat X: We're trying to get that Nubian thing in the works. That's on my bucket list. Once I can complete a Nubian album, I want to do it with some of the producers of today. I would like to get some of these young producers that's coming up – the 5th Seals and the Harry Frauds and those type of dudes, and make some joints. That'll keep you sharp and you should only be in the game if you can stay sharp. A lot of the older rappers, they get mad and be like 'Yo, the young boys don't show us respect." You've got to make some shit to be shown respect. I'm not gonna show you respect just 'cause you old and you rhyming. If you wanna blame somebody, blame your mother and father for having you 20 years too soon.    
Purchase Music by Sadat X
Purchase Music by Brand Nubian
RELATED:Brand Nubian's Sadat X Featured As Coach On New Episode Of MTV's "Made"