For quite some time the fate of 50 Cent's fifth studio album seemed a bit unclear due to his issues with his label, Interscope Records. But while being interviewed by various reporters at the Floyd Mayweather Boxing Club in Las Vegas, he revealed that his fifth studio album will in fact be released July of this year. 
"Of course man," said 50 Cent when asked if he's working on any new music. "I'm actually working on the music. New album will be out July."
While 50 Cent did reveal the July 2 release date for his album via Twitter, this is the first time he's spoken publicly on the album's release date. 
Since he was in fact being interviewed at Mayweather's Boxing Club, 50 Cent was asked several questions about boxing and even spoke on taking part in the sport as a youth. He also referred to Mayweather as being "the Ali of our time" when asked if the boxer is greater than boxing legend Muhammad Ali. 
"I've been watching boxing for a long time. I've been a huge fan of it," 50 Cent explained in a video posted on HipHop-n-More.com. "I started boxing when I was 12-years-old. I didn't get a chance to go as far as my friend [Floyd Mayweather] did. I get a chance to live vicariously through him …I think he is equivalent to Ali. He's the Ali of our time, our generation."
No other details on 50 Cent's fifth studio album have been revealed.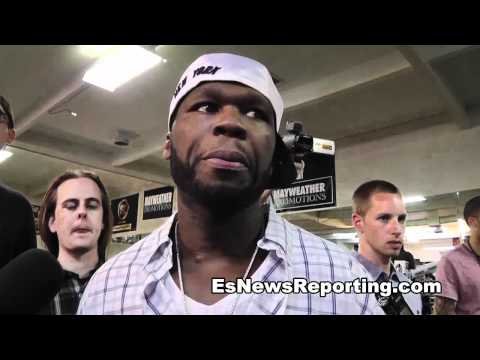 RELATED:50 Cent Joins Arnold Schwarzenegger, Sylvester Stallone In Cast Of Action Film "The Tomb"