This Sunday's vocal acts spread about, but all veterans. Gensu Dean links up with one of his beat-making inspirations in one of 2012's most interesting videos to date. Meanwhile, Sha Stimuli makes thought-provoking music at a humbling rate in his independent era. Lastly, three big voices from New Jerusalem unite to put it down for the Garden State.
Gensu Dean featuring Large Professor – "Forever"
My favorite moment of Gensu Dean's 2012 album Lo-Fi Fingahz is his collaboration with another artist closely associated with the SP 1200 (perhaps more so than anybody), Large Professor. While "Forever" was a cool nugget on the album, this video – one of the best I've seen so far this year – brings the concept to life. Famously reclusive, Extra P gets his '90s style video-intro acting in a feel-good demonstration from two veterans on why they are forever committed to this culture and the art of making music. This video was particularly inspiring to me last week, as Mello Music Group's run through the last six months leaves me having Rawkus and Rhymesayers flashbacks that feel so authentic at a time when it's easy to be cynical. The video sells the song and hopefully drives those legions of Large Pro disciples to check for another vet in the same circle, Gensu Dean. – Jake Paine (@Citizen__Paine)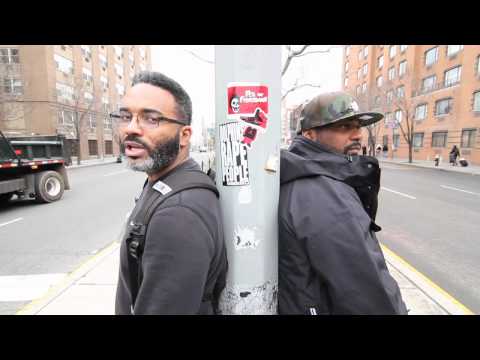 Young Noble featuring Treach and DoItAll – "Home Of The Rydaz"
Being from New Jersey, I felt the need to highlight this track as part of this week's Slept-On picks. The Outlawz are one of Rap's mainstays, and have therefore proven that a Tupac cosign takes them far, but a strong fanbase and mid-level lyrics take them further. On this cut, Outlawz' Young Noble grabs Naughty By Nature's Treach and Lords Of The Underground's DoItAll for new track paying homage to the Garden State. With artists like Queen Latifah being name-checked, the cast of characters proudly rep their set in a way that only Jersey acts can do. With New Jersey Hip Hop artists, there always seems to be something to prove. New York City is right next door, but the stigma of being from Jerz is a moving target (thanks Snooki) to some, making our rappers work that much harder. So here's a track that proves that. – Kathy Iandoli (@Kath3000)
Listen to "Home Of The Rydaz" by Young Noble featuring Treach and DoItAll
Sha Stimuli – "Sallie Mae"
Sha Stimuli's "Sallie Mae" is grounded in the same reality and offers the same kind of lyrical substance as an earlier slept-on pick Jon Connor's "The Rappers Rapper." Connor's track showed the ridiculousness of giving up the chance for higher education – or even a career in sports – to be a rich and famous rapper. Yet while Sha's track can be seen as a sort of sequel to Jon Connor's, it occupies a much more problematic space. "Sallie Mae" highlights a tragic grey area that is new for America, where the college route, that was for so long considered a foolproof albeit less glamorous way of getting ahead, now doesn't look so hot. Sha begins by posing the question "How many people left high school with that college mission, until they found out the price and saw that high tuition?" Twenty years ago the college issue when addressed in most forms of pop culture especially Hip Hop was so much more straightforward. Sure, the message was delivered with the best inspirational intentions but to a 17-year-old's ears in 2012 it now comes off as simple-minded and naive. A Different World's Hillman College now looks like Leave It To Beaver.
Sha Stimuli's "Sallie Mae" is really the first Hip Hop track to address the stalemate high school grads with limited financial resources find themselves in. While the "beef with Uncle Sam" is much more mundane than the "killer white racists and ignorant Negroes" of Higher Learning it is far more insidious. It's no longer about someone blocking the gates to the university, it's about someone telling you don't worry, here's all the money you need, sign the line and we'll worry about it when you're twenty-something. And when our narrator and a million other college grads now have "credit scores lower than bowling scores," we realize that sweet sounding Sallie Mae is one vicious bitch. "Somewhere Sallie is looking at my salary and finding it hilarious that life is far from fabulous…" An enlightened emcee selling us on college so he can sleep better at night doesn't help while we're working the graveyard trying to pay it off. – Mike Sheehan
Listen to "Sallie Mae" by Sha Stimuli