When the legendary MC Lyte is ready to record a new full-length album hopefully she'll consider the title "Grown & Gracious" for it, because that's just what the foremother to every female emcee that's stepped on the scene over the last 25 years came across as during her discussion with HipHopDX yesterday (March 21st).
In an approach foreign to most controversy courting rappers, Hip Hop's Madame Royale respectfully responded to the recent usage of her name in what she deemed an "irresponsible" manner by Tyler, The Creator. In a refreshingly mature manner, without sonning someone young enough to be her son, Lyte addressed the Odd Future front-man's line, "Let's get it poppin' like MC Lyte around some dykes," on "Rella" (from the Loiter Squad's just-released The OF Tape Vol. 2) and explained why "my intelligence was insulted more than my feelings were actually hurt" by Tyler's joke-making at her expense.
In her quick Q&A with DX, the voice of the BET Awards (and the musical supervisor of a slew of the network's recent reality programming) additionally revealed who tops her list as the female G.O.A.T., what she thinks of Nicki Minaj's more Pop-driven sound, and what the title of her forthcoming memoir would have been if Eddie Murphy hadn't ruined it.  
And for the record, there was no question posed to Lyte about her sexuality, because that's no one's business but her own.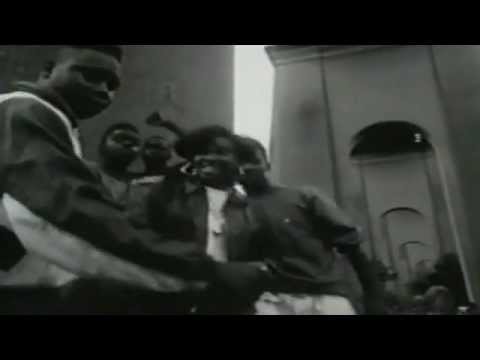 HipHopDX: One of the first Rap songs I knew the words to as a kid was "Cha Cha Cha." I had to substitute "male" for "female" and "him" for "her," and I never really felt comfortable as a dude saying "the voice gets wetter" – [Laughs]
MC Lyte: Ah, yeah, yeah. [Laughs]  
DX: But other than that, that was my shit back in the day. Do you still get grown men coming up to you giddy to talk about "Cha Cha Cha," "Stop, Look, Listen," "Paper Thin"?

MC Lyte: All the time. And actually, younger men as well because they were the younger siblings of the generation that was directly affected. Yeah, that's a beautiful thing.
DX: I just envision some like Suge Knight looking dude rollin' up to you and starts kickin' your rhymes. [Laughs]
MC Lyte: You know, it's not very different from that. [Laughs]
DX: Now, you're often cited as the greatest female emcee of all time, but I was just curious outside of yourself who do you consider to be the G.O.A.T. female in the game?
MC Lyte: Oh, goodness. Um … I would … you know, it's a difficult question, because I respect and admire a lot of the female emcees for their unique qualities. Of course I would wanna say Lauryn Hill, but her body of work is not even so much as an emcee. I would of loved to hear more from her as an emcee – even now, I would still appreciate hearing her. She would certainly be at the top of my list.
I like to look for an emcee's emcee. So I like Heather B, I like Bahamadia, Rah Digga. I love punchlines but I also like the substance within the bar as well. So, yeah, those would be a few I would name certainly.
DX: In most of the circles I'm in it usually comes down to Lyte and Lady Of Rage.
MC Lyte: Oh, is that right? Okay.
DX: Since she's sadly the only female emcee currently on the charts, I have to ask MC Lyte what you think of Nicki Minaj's more decidedly Pop direction as the sole representative of female rappers in the mainstream today?
MC Lyte: Well, I mean, it would make sense in terms of what mainstream media is not only promoting but also enveloping. It was coming. The closest we got to it back in the day was Missy [Elliott], in terms of being able to really mesmerize a Pop crowd and provide music in Dance clubs. She certainly was able to capture that.
And then, right on the heels of her was Nelly Furtado and Gwen Stefani working with Pharrell [Williams and Timbaland]. And then there was Fergie, which will.i.am – I remember I did a song called "Mash Out" with will.i.am [for his Must B 21 project in 2003]. He called me up, he said, "I need you to be on this song." I said, "Without a doubt." And this was before Fergie was even a part of [The Black Eyed Peas]. They were producing some songs for me when I was on Will Smith's record label [Overbrook Records], and when I finally heard the song and I heard somebody rappin' on it I called him like, "Dude, you can't just put somebody on a record with me. Like, we need to be able to talk about that first." And he was like, "Oh, you know, no disrespect, she's just the new addition to our group." So she was rapping first, before she even started singing, Fergie was.
But it all goes to show that it's no surprise at all that Nicki [Minaj] would be embraced by the mainstream. I just heard yesterday that she just added another deal to her resume in terms of sponsorship and endorsement. And, you know, it just makes sense.
DX: This next question I just have to forewarn is a much, much heavier one. It's about another relative new-jack, this one male: Tyler, The Creator from Odd Future. For the first leak from Odd Future's new album, "Rella," Tyler rhymes, "Let's get it poppin' like MC Lyte around some dykes."
MC Lyte: Right, I heard about this.
DX: Were you personally offended by the 21-year-old's alluding to the rumors?
MC Lyte: Yeah, I definitely was insulted. First off, it's totally new school. [Tyler, The Creator] has yet to understand [that] although he can have quite a bit of followers and fans, it does take a moment from one's entry in the business for them to really understand what it is that we do for other people. And how we inspire them, and how we influence them, and how we can literally make or break another human being's day. And with all that I've done throughout my years in inspiring generations of people, I think it very irresponsible of him.
With saying that, we do have a generation that is quite irresponsible when it comes to what it is that they'll say [and] their behavior. [But still], it took me by surprise. One, because I know of people who know him and kind of hold him in high esteem. [But] from that action alone, I don't know that I feel it worthy for me to address it in any other format, outside of this. But, yeah, I thought it was very careless.   
DX: Well this isn't in Tyler's defense but I just wanna note that Odd Future has an openly lesbian member, Syd The Kyd, and Tyler has previously stated that he's not homophobic. So I think your name kinda just got used as the butt of a joke – that it wasn't an attack, just tactless.
MC Lyte: Well, the point is just 'cause words rhyme or sound alike doesn't mean I need to be your stomping ground. So I do have to take it personally, unfortunately whether he meant it personally or not. I'm sure there was a more tactful way, if in fact skilled, you can deliver a rhyme on your own account and not involve me in the shenanigans.
And I am aware of that member of their group, and kudos to her. But … why didn't he say her? [Laughs] Like, don't use me! But, it is what it is. I've actually had worse said about me, so … my intelligence was insulted more than my feelings were actually hurt.  
DX: Let's move off of that stuff and wrap up this quick Q&A by talking about what you're currently working on. You're Executive Vice President of the DuBose Music Group, you're co-host of Café Mocha Radio on XM/Sirius channel #141, you're deejaying, you're lecturing, but what about recording a new MC Lyte album? Do you even have time to get back in the booth for a full LP these days?
MC Lyte: You know what? I have a book that's coming out and there will actually be a six-song CD in the back of the book. So that's what I'm concentrating on now.
But, yeah, all of those things that you mentioned, [and] I'm actually no longer with DuBose. I did a four-year contract, and I had fun, I music supervised several shows: Monica, Trey Songz, Michael Vick, Tiny & Toya, Toya. It was a fun ride. And, I worked part of the production of Tweet's [self-titled] record, that's actually finished and in the can right now. I think they're about to go through mixing and mastering, so that'll be out.
But, I'm ready to put all of my eggs into me, and with that comes Hip Hop Sisters, the organization that I started about five or six years ago. So that's gonna be built out and also have a foundation component to it. I'm out to really inspire some people and possibly change people's lives.
DX: Is the book gonna be more inspirational or more memoir …?
MC Lyte: Well, there are two different books that I'm working on. One is a memoir, and it is inspirational as well. And then there's another book that's pretty much like a photo journey through my … through all of my existence. So it should be quite an event. I'm excited about it.
DX: You got any tentative titles for the books yet?
MC Lyte: I do, but I would rather not say 'cause it was actually A Thousand Words until Eddie Murphy's movie came out. [Laughs] So I'm just gonna keep it hush hush until we're out the gate.
DX: Before I let you go, I heard that "You Don't Have To Be A Star (Remix)" by Gods'illa and Erykah Badu featuring you, Bahamadia and Monie Love – who was spittin' like crazy! I don't think I've ever heard Monie spit like that. So is that 3 Queens super-group a possibility you think?
MC Lyte: Oh, wow. I don't know. I mean, hey, whatever I can do to be of service in terms of putting out some lyrics of quality.
Purchase Music by MC Lyte