While in Los Angeles for the 2012 Grammy Awards, Philadelphia rapper Meek Mill took some time to fill fans in on the latest happenings in his music career as part of a video blog posted earlier this week. The video blog also included footage of the Cash Money Records pre-Grammy party as well as Meek's performance at Hollywood nightclub Club Colony.
In his video blog the former Grand Hustle artist revealed that the title of his debut album will be Dreams & Nightmares and that it will likely be released sometime this summer.
"We out in L.A., Grammy weekend. On our way to Club Colony to do our thing. MMG we in the building. You already know man. I ain't get no Grammy's this year, but next year it's gonna be a wrap," said Meek in a video posted on HipHop-N-More.com. "[I'm] dropping my album in 2012. This summer, Dreams & Nightmares. They don't give it to me I'm gonna take it. That's how we ride. Cause we want it all."
Meek Mill signed to Maybach Music Group roughly a year ago and has since released countless songs including "House Party," "Ima Boss," and "Tupac Back." The rapper also appeared on Maybach Music Group's Self Made Vol. 1 album.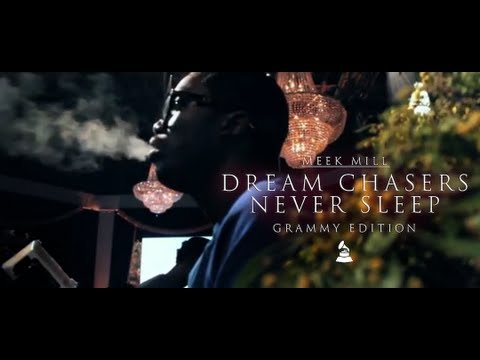 [February 18]
UPDATE: According to HHNM, Meek Mill's debut album Dreams & Nightmares, which was originally slated for release on August 28th, is now slated to hit stores on October 30th. The follow-up single to "Amen" is scheduled for release in the upcoming weeks.
UPDATE #2: Warner Bros. Records has confirmed the October 30 release date.
[August 21]
UPDATE #3: Meek Mill has revealed the cover art for his upcoming debut Dreams & Nightmares.
UPDATE #4: The tracklist has been revealed for Meek Mill's Dreams & Nightmares (via UHTN).
1. Dreams And Nightmares (Prod. by Tone the Best Bully for Nightrydas Productions)
2. In God We Trust (Prod. by Black Metaphor for Nightrydas Productions)
3. Young & Gettin' It featuring Kirko Bangz (Prod. by Jahlil Beats)
4. Traumatized (Prod. by Boi-1da)
5. Believe It featuring Rick Ross (Prod. by Young Shun for Maybach Music Productions)
6. Maybach Curtains featuring Nas, John Legend & Rick Ross (Prod. by Infamous & The Agency)
7. Amen featuring Drake (Prod. by Key Wane and Jahlil Beats)
8. Young Kings (Prod. by Lee Major)
9. Lay Up featuring Wale, Rick Ross & Trey Songz (Prod. by Kane Beatz and Co-Produced by Ashanti "The Mad Violinist" Floyd for The Building Productions, Inc.)
10. Tony Story Pt. 2 (Prod. by Boi-1da)
11. Who Your Around featuring Mary J. Blige (Prod. by Tommy "TBHITS" Brown and Travis Sayles for Darkchild.com)
12. Polo & Shell Tops (Prod. by Cardiak)
13. Rich & Famous featuring Louie V (Prod. by Jahlil Beats)
14. Real Niggas Come First (Prod. by Kenoe and Got Koke for Nightrydas Productions)
15. Burn featuring Big Sean [Bonus Track]
16. Freak Show featuring Sam Sneak & 2 Chainz
RELATED: Meek Mill Projects Debut Album For Summer 2012 Release