To be a man in his twenties, it's mildly amusing to think of T-Pain as reinventing his career-it just started in 2005. The Tallahassee, Florida artist instantly became a star because, quite simply, he knew how to make hits. Pain's experimentation with the Auto Tune pitch corrector just seemed to work with every lyric he came up with. He had the formula for club bangers down to a science with tracks like, "I'm Sprung" and "I'm N Luv (With a Stripper)."After a while though, the masses grew somewhat impatient with Pain's use (or for some-his overuse) of the vocal tool. T-Pain's signature Auto Tune-tinged hits had somehow become a sort of parody of itself, inadvertently inspiring a substantial number of knockoffs in those first years. The influx of robotized hooks on the radio finally pushed one very respected emcee to create the song that would publicly denounce Auto Tune, pushing it from its gold plated pedestal in hopes of fatality.
Everyone can certainly agree that T-Pain's music has a distinctive finger-popping quality that even the most stubborn Hip Hop head can't resist. More than that though, he provides the genre with yet another dimension, whether or not it's loved by all. After three years of reflection and brainstorming, Pain is back with his fourth album,rEVOLVEr. The LP is the product of his new found determination to benefit from his own ideas: making good music and creating his own lane in the music software market- AutoTune be damned.
DX had the opportunity to talk with T-Pain about the difficulties behind shaping his fourth album, battling Kevin Hart, and how he plans to kill AutoTune.
HipHopDX:rEVOLVEr is your first album in three years. The longest you've gone without dropping an LP was the couple of years between your debut Rappa Ternt Sanga and the second Epiphany. Did you have some difficulty nailing down what you wanted for your fourth album?
T-Pain: Yeah. I actually did have some difficulty with it, but you know, it was more of me wanting to get out what I wanted to get out [and] make the songs how I wanted them to sound – how I heard them in my head. Because every other time I did it on any other album, it was like, "Ah, well this sounds close enough. So let's put it out…" Then boom, every time I heard it, it bothered me so this time I actually sat down and got it out the way I heard it in my head.
DX: So you developed into a perfectionist on this one?
T-Pain: Yeah. Pretty much. That 's pretty much what was going on.
DX: What's the significance behind the stylization of rEVOLVEr's lettering?
T-Pain: Basically, it's just don't judge a book by its cover. Usually, when people hear the name of the album's rEVOLVEr, they'll think of guns and violence and stuff like that, then when you see the title, you see it's all about evolution and evolving and getting better. It's not just the title of the album.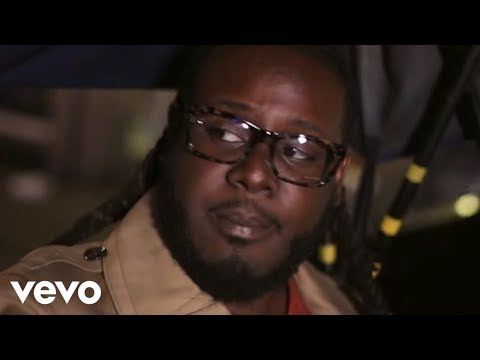 DX: What was it about that Lily Allen sample that made you want to implement it on "5 O' Clock"?
T-Pain: Man, that was just a sweet song. I had only heard it one time before I sampled it. And that was over the phone. I think it was just the chords on it, the way she sounds, I thought it was pretty damn dope.
DX: Did you hear that she said she wanted to be a part of the video?
T-Pain: Yeah, yeah… She definitely wanted to be but she could not 'cause she's preggers.
DX: What are you thinking of for the next single?
T-Pain: Right now, we're just going with the flow. We're not even thinking of the next single right now. It's kinda an album full of singles. I mean, I recorded 86 songs for this album. We just picked 17 of the best ones. It's a gang of singles on this album, so we're just waiting on it to come out and we'll see whatever ones ones people like and boom, that'll be what it is.
DX: You dropped five singles over the past year or so, but the only one to make the album is the Chris Brown-assisted "Best Love Song," why choose that particular one to include?
T-Pain: That was the only one I was recording for the album. [Laughs] With the other ones it was just like, "I need to put a song out real quick…" and just record that song and we put it out. "Best Love Song" did so well on the charts and did so well on iTunes, I think people would be pissed off if it wasn't on the album.
DX: You've publicly announced that you're done with Auto-Tune, and have moved on to "The T-Pain Effect." What are the differences between the two? Also, it's available for consumers, right?
T-Pain: Well, with The T-Pain Effect you get more. You get my whole thing, everything that I use in the studio. You get my reverb and of course you get the pitch correction, the EQ, you get the delay… Everything all in one package. And you can record right onto the Effect and you can make beats on the Effect and it's just like this whole studio for $100. Just trying to give something back to the people instead of them getting a pitch corrector for $500.
DX: Did you guys end up having any legal problems with Auto Tune at all?
T-Pain: Nah, not at all. We tried to do a deal with them. They were greedy. We said 'no,' so hey…
DX: The freestyle between you and Kevin Hart a/k/a Chocolate Drop was a hilarious way to promote your album. You're not necessarily known for going "off top," neither is Kevin. Was it a way to sort of thumb your nose at "serious" rappers? Who came up with the idea?
T-Pain: [Laughs] It was just something that I thought of, man. Something that we could have some fun with. Me and Kevin [Hart] always wanna shoot something, but we never have the time to, but he had some time that day and I was like, "Man… We gotta shoot something." And so we just kinda came up with that, so you know, we shot it in like, an hour, but it came out pretty dope. It was something we were just having fun with. I had a hard time not laughing. It was dope though, came out great.
DX: What's next for your Nappy Boy label?
T-Pain: We doing a Nappy Boy Takeover Tour right now taking all of our artists out and creating a little bit of buzz. We got Joey Galaxy who just jumped and we're trying to get him fully all the way out there. We got Shawnna, doing her thing. We got Travis from Gym Class Heroes, he's definitely doing his thing. One Chance 'bout to go on tour with me.
DX: What the one thing in your career that you'd say you're most proud of?
T-Pain: [Chuckles] I think the thing I'm most proud of right now is that I have a career. 'Cause there are a lot of people that are gone real fast.
Purchase Music by T-Pain