Only weeks after the release of LIVE. LOVE. A$AP and A$AP Rocky already has major plans for the chopped and screwed version of his project. A$AP went so far as to call the new chopped and screwed version "classic" and also added that he may have to enlist Scarface for the project.
"You can expect the best baby," said A$AP when asked if there would be any surprises on the project. "Bun B, fuckin Paul Wall, maybe even Slim Thug. Shit man, I don't know man. I might have to fuck with Scarface. That's how really trill it's getting. That's gonna be fuckin classic right there."
Aside from securing the likes of Bun B and Paul Wall for his next project A$AP has also caught the attention of producer/rapper Pharrell Williams.
"Yo, Pharrell reached out to me. He gave me some wise words like on some mentor shit. He was just looking down upon me as a young brother trying to get it and he just had nothing but kind shit to say to me and we're gonna build," A$AP explained to Hip Hop At Lunch. "I'm going out to Miami hopefully I see him when I get out there, but he told me one of his favorite lines was from the song 'Out Of This World.' The line was, 'You a lie like fly without the letter f.' When he told me that's when I knew 'Oh yea, he's not just fronting saying he likes my music.'"
A$AP also spoke on touring with Kendrick Lamar and Drake and revealed that it was quite the learning experience touring with the two artists.
"It's amazing. Both of those guys are like incredible. It's a learning experience for me. I'm having fun at the same time. Doing what I love doing. They inspired me too," the rapper explained.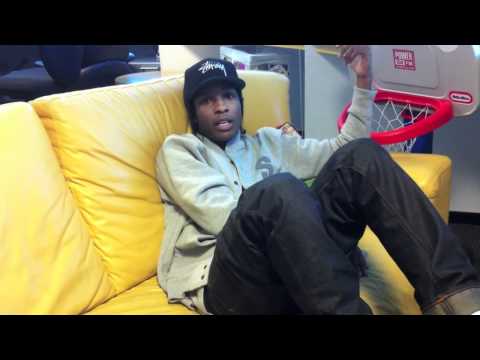 RELATED:A$AP Rocky Speaks On Learning To Rap, Spits A Freestyle