You shouldn't be reading this right now. That's not to say you don't have anything better to do. But no one should have to convince a reader that is even remotely interested in Hip Hop about Elzhi's skill level. Aside from being able to rhyme circles around nearly anyone atop the Hip Hop sales charts, Elzhi has traded bars with the likes of J Dilla, Kanye West, Eminem. So if it seems like he doesn't get the recognition he deserves after five Slum Village albums and some impressive solo appearances, maybe it's because he isn't.
Before any discussion about Elzhi's future begins, the Detroit emcee took a moment to reflect on his past. It's a past that dates back to a time when Grant Hill was still catching passes from Joe Dumars and Eminem won an epic battle against LaPeace. Despite losing Proof, Baatin, Dilla and nearly losing Obie Trice, Detroit's "golden era" representatives are keeping the spirit of that age alive. And it's not in a bitter, dusty or underground manner. You can find them at the top of the charts, on equally loved and loathed Drake mixtapes and via Superbowl commercials. And Elzhi remains in the midst of it all—simultaneously representing the past, present and future.
HipHopDX: Tell me about Detroit's Hip Hop scene during the early to mid-'90s.
Elzhi: Detroit Hip Hop started from this place called the Rhythm Kitchen. From my understanding, because I was too young to go there, it was like a restaurant. And Maurice Malone, Proof and a few other cats used to just bust freestyles in the Rhythm Kitchen…just having a little cypher. That grew into Maurice Malone's place that was on 7 Mile Road and Foyer called The Hip Hop Shop. The Hip Hop Shop was like a clothing store that turned into an open mic on Saturdays from 4:00 to 6:00. You had Proof hosting, and it was crazy.
That's how it all started for me, because I was in high school and I was all about emceeing. I used to be in the cafeteria on top of tables battling cats across the room in the same cafeteria. We had everybody's attention in the cafeteria—it was serious. At one point, I was like, "Damn, I wish I was in New York, man. They have some ill emcees in New York." I always kept hearing about The Hip Hop Shop from a lot of folks. And ever since then, I always went back.
HipHopDX: What are some of the more memorable performances you saw at The Hip Hop Shop?
Elzhi: The first cat I ever saw on the mic was Obie Trice. Later on, I would see people like Slum Village before they were "Slum Village." I saw Phat Kat, Royce Da 5'9 and Guilty Simpson. But what's really crazy is how I met Eminem. The first time I met Eminem was over the phone. My man Proof called me up on the three-way, and he was like, "Yo, I want you to hear my man spit." So he had Eminem spit for me. [Proof] respected me because he kinda knew that I studied the same emcees that he and Eminem studied. We'd spend many nights just talking about patterns—like shadowboxes, mirrors and all that.
So Eminem spit for me, and when he was done, Proof was like, "So what he sound like?" And after I told him Eminem was pretty fresh, he goes, "Yeah, I bet you ain't know he was white though?" And I didn't, but I thought that he was pretty dope. Later on, I saw Eminem on stage demolishing cats with crazy lines.
HipHopDX: You mention your mother in your rhymes fairly often. What kind of influence did she have on you?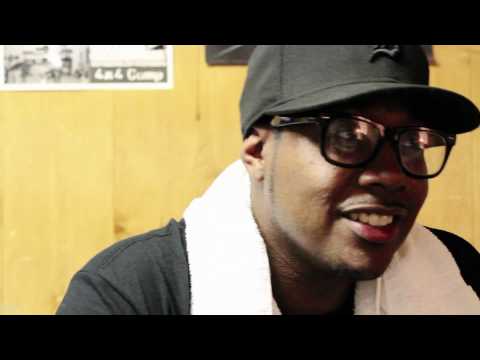 Elzhi: My mom influenced me to never follow…always be a leader, and do what you want to do. She was the main one that instilled in me if everyone's going left, you go right. And that's how I look at my career, because I'm not trying to do what everybody else is doing. I'm trying to be on my own path in my own lane and do my own thing. So big ups to my moms; I put her in so many songs. One of the songs I put her in was in "Memory Lane."
At the end I say, "I threw the deuces up to Dilla / Dapped up 'Tin / And then I hugged my momma slow…" That line was just me kind of leaving memory lane and coming back to real life. But these are the people that I think about. They're the reason I strive and continue to do this everyday.
HipHopDX: You mentioned Dilla also, what kind of…
Elzhi: I was overseas, man. Me and T3 was getting ready to go onstage in England. And we got the news from Tim Maynor, who was our manager at the time. He was like, "Man, Dilla just passed." It was crazy emotions, and everybody was just trying to hold back the tears. But we still went on stage, and we had everybody say, "R.I.P. J Dilla." When the crowd heard the news from us, that might have been their first time hearing about it too. So it was just a crazy emotion that popped off.
And then after Baatin passed, it was like, "Damn, what's going on?" Then MC Breed and ODB passed too. It just seemed like everybody that I was working with at one point was fading away. Me and T3 had talks at the time, and it just made us want to take care of ourselves a lot better. That's one thing that we definitely think about. When we think about Baatin, Breed, Proof and Dilla, we just gotta take care of ourselves as far as eating right, making sure we're healthy and staying out of these streets. We just wanna stay in the studio and keep doing what we're doing, because it's a positive thing.
Video shot and edited by Sam Suter.
Purchase Music by Elzhi
Purchase Music by Slum Village
RELATED:Elzhi Discusses Illmatic, ELmatic And "Verbal Intercourse Pt. 2"