After almost three decades of non-stop contributions to music, producer/rapper Dr. Dre says he's finally ready for a break from music. Dr. Dre revealed the news during an interview with The Fader at the opening of the Beats By Dre store in SoHo.
Dr. Dre explained that when he's done working with Kendrick Lamar and Slim Da Mobster he'll be ready for a break which will consist of spending more time with his family.
"These are the next two artists I'm working on, Slim Da Mobster and Kendrick Lamar. I think that's when I'm gonna just wrap it up for a minute because I've been working on music for 27 years now and the longest I've ever been out of the studio in 27 years has been two weeks," Dr. Dre explained. "So yea I feel like I'm gonna take a little bit of a break. I'm never gonna stop music, it's like air to me. So I'mma take a little bit of a break. Enjoy some time with the family til I get that itch to get back in."
Aside from working on music Dr. Dre has contributed heavily to the Beats By Dre line of headphones and says they won't stop until they've become second only to Apple.
"I'm shocked myself as to how well they're doing. We're gonna keep new and exciting product coming. We're trying to eventually be second to Apple. And I don't think that's a bad position," said Dr. Dre. "We're really trying to take over everything with a speaker. And also microphones. We're gonna get involved in that also."
There were no mentions of a Detox release during Dr. Dre's interview with The Fader.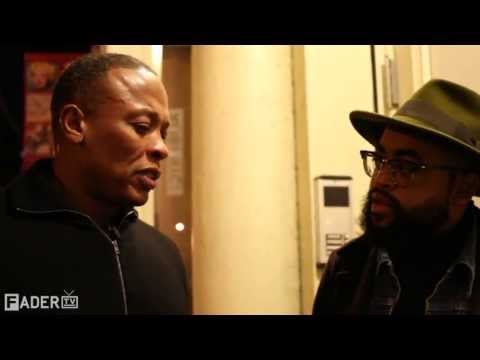 RELATED: Kendrick Lamar Says Dr. Dre's "Detox" Is Basically Done, Will Drop Soon