Come November 21st Alabama rapper Yelawolf will have quite a few interesting surprises on his studio album Radioactive including a collaboration with both Gangsta Boo and Eminem.
Directly following his Radioactive listening session in New York City last week the rapper spoke with KarenCivil.com about the collab which he says is "culturally important."
"So I'm a huge Gangsta Boo fan so I wanted to do a record with her, but I wanted to do something that was stepping outside the box for her and I," Yelawolf explained. "When Will Power played the beat I knew it was the one. I knew it was the one that made it all make sense. And to top it off I was reaching but I was like, 'Man, we need to get Marshall on this record.' That shit would be culturally important, ya know, to have us three on a record. It's something the world's never seen before. And it worked out. It took some luring and it took a lot of persuasion and a push to make it happen. Because it was something that I was just so adamant about because I knew that it was important for the people to hear that collabo."
While speaking to the audience at the listening Yelawolf went on to speak on what exactly Radioactive means for him and why he was so particular when it came to choosing features for the album.
"I think this album speaks volumes about who I am, where I'm from, my story, what I've been through to get to this point, and we put the music first. We always put the music first," said Yelawolf. "The features that we have, we didn't go get features just for the sake of having somebody on a record. We tried to make classics with this album."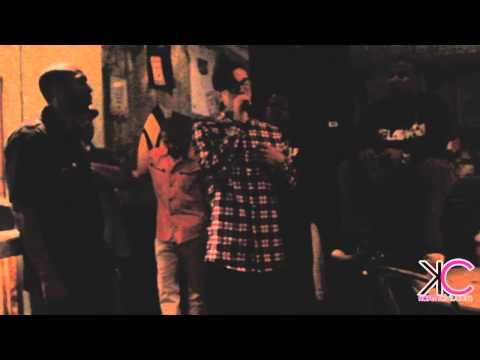 RELATED: Yelawolf Reveals Cover Art For "Radioactive," Now Due November 21st