Contrary to what Twitter and passing cars may suggest, more than one album came out this week. And yes, while Jay and 'Ye did the damn thing, some pretty amazing songs dropped too, some from some former collaborators of the Roc-A-Fella pair. One of these artists worked on Jay-Z's break-from-retirement album, while another earned a Grammy Award on Kanye West's debut album. Times may have changed, but the quality of songs sure hasn't. Pay attention and homage.
Showbiz & A.G. – "Suspended Animation"
Released late last week, D.I.T.C. fans, ourselves included, rejoiced at this reunion. Bronx, New York's Show & A are reportedly coming back with an album of the same name. Both artists have experimented with their sound on solo work in the last several years, so this hones things back wonderfully. Here, you can hear A.G.'s strong lyrical influence on a newer class of emcees, including in this week's round-up. Meanwhile, Show's chopping skills come back strong with a loop at the chorus, and slices through the verses. If you like this and you've never heard Goodfellas or Runaway Slave, now would be the time to pull out your credit card.
Listen to "Suspended Animation"
by Showbiz & A.G.
Evidence featuring Fashawn – "Same Folks"
This week Jay-Z and Kanye West's lock and key strategy for Watch The Throne worked. Limited to iTunes, there were no unsanctioned leaks prior to the digital drop and the eventual Best Buy exclusive (pushing Mom & Pop record stores into the cold). So perhaps it was fitting that Evidence of Dilated Peoples, another veteran in his own right, took an entirely opposite – and more inclusive – route when it came to giving the streets (literally) a taste of his eagerly awaited Cats & Dogs album. For his "Same Folks" video, Ev and featured guest Fashawn, took a trip back to the days when hungry up-and-comers would burn CDs, rig a crude listening station (a/k/a Discman and headphones) and set up camp in high foot traffic areas to hustle their music. "Same Folks" features "regular folks" vibing on – or taking a pass on – the bonus track from September's Cats & Dogs. Now all this wouldn't mean a thing if the song was a snooze. Thankfully "Same Folks" is a perfect example of how to use Soul samples to build a track that breathes as Ev and Fashawn completely relaxed, neither stepping on the others toes, bounce back and forth waxing nostalgic on simple pleasures from a simpler time. But what's really refreshing is that through it all they make being older and wiser look like a lot of fun.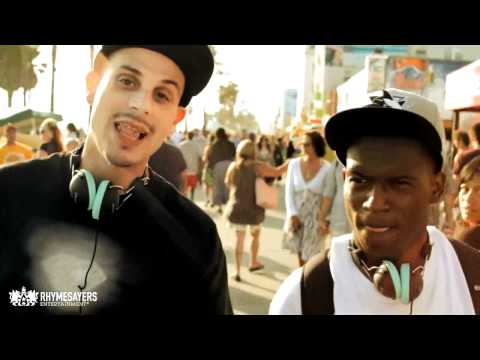 Listen to "Same Folks"
by Evidence featuring Fashawn
Self Scientific – "God's Language"
With all the success DJ Khalil is having with Bad Meets Evil, Game and Raekwon, it's great to see him back with his partner Chace Infinite. Self Scientific has been quiet for the last five years, primarily doing feature, compilation and mixtape work. Backed by an amazing video, "God's Language" brings the duo back to the epicenter of hard rhymes, ghetto truth amidst global commentary. With all the recent headlines and stalemates in the legislative branches, Chace's rhymes are heartfelt when he says "The government doesn't love us." From the Trials of The Black-Hearted
freeEP, this video belongs on something retail, as we supported and still play 2005's Change regularly.