Wale is currently laying down his sophomore album Ambition, keeping fans hip to his progress during the recording process. According to XXLMag.com, listeners won't have to wait much longer to get the follow-up to 2009's Attention Deficit, with his sophomore set slated for release on November 1st.
Workin on this album, me @thefuturemogul @bksTONEP @MrVicc @blackcobain and @treofucb all live in a frat house..can't expln the ratchetnessless than a minute ago via UberSocial
Favorite
Retweet
Reply
Wale Folarin
Wale
Ambition comes on the heels of Attention Deficit, released in November 2009. The album, which featured guest appearances from Lady Gaga, Bun B, Pharrell Williams and more, debuted at No. 21 on the Billboard 200 chart with 28,300 copies sold in its first week.
[July 21]
UPDATE: Wale has released the cover art for his upcoming album Ambition, due November 1st.
[September 30
UPDATE #2: Wale has revealed the tracklist for his upcoming sophomore album Ambition, due November 1st.
1. Don't Hold Your Applause (prod. by Tone P)
2. Double M Genius (prod. by Mark Henry)
3. Miami Nights (prod. by Mark Henry)
4. Legendary (prod. by Toomp)
5. Lotus Flower Bomb
f/ Miguel (prod. by Jerrin Howard)
6. Chain Music (prod. by Tone P)
7. Focused
f/ Kid CuDi (prod. by Kore)
8. Sabotage f/ Lloyd (prod. by Cloud Eater)
9. White Linen (Coolin) f/ Ne-Yo (prod. by Deputy)
10. Slight Work f/ Big Sean (prod. by Diplo)
11. Ambition f/ Meek Mill & Rick Ross (prod. by T-Minus)
12. Illest Bitch (prod. by Tha Bizness)
13. No Days Off (prod. by Toomp)
14. DC or Nothing (prod. by Tone P)
15. That Way
f/ Jeremih & Rick Ross (prod. by Lex Luger)
[October 14]
UPDATE #3: Wale has released a full preview of his album in anticipation of its November 1st release. Listen to clips from each track below.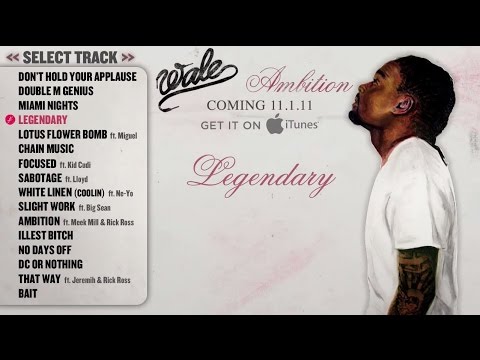 RELATED: Wale Explains Cockiness, Why He Joined Maybach Music Group