When the King of the South has you at the top of his feature list upon release, you're definitely doing something right. Future was already buzzing after the success of street smash "Tony Montana" in 2011 (it was enough for Drake to hop on a remix), but "Magic," with a notable feature from T.I., took things further into the stratosphere. The Epic Records star's Pluto's third single, "Turn On the Lights," a ballad that further exemplifies just what it means to make "astronaut music," has been his biggest yet, topping the Billboard Heatseekers chart.
It may have taken years of watching his cousin Rico Wade and the Dungeon Family craft music before he discovered just what he wanted to sound like, but Future's momentum has only continued to build since this man from Pluto arrived on the mainstream Hip Hop radar late last year. Expect more from this ATL native by the end of 2012, as he will be dropping new single "Neva End," featuring Kelly Rowland, as a prelude to his debut re-release, set to be called Pluto 3-D.
HipHopDX spoke with Future by phone while on the road, and he caught us up on the status of two upcoming projects (mixtape Super Future / Fire Marshall Future and retail follow-up Future Hendrix), explained how he approaches writing for other artists compared to penning his own music and noted that he hopes his success eventually leads to VMA and Grammy awards.
Future Looks At Pluto, Pluto Hendrix & Pluto 3-D
HipHopDX: I had just heard that you're getting ready to push a new single from Pluto. What were you planning on going with?
Future: We're gonna do "Neva End," the record with Kelly Rowland. We're gonna repackage Pluto, put a couple new songs on it and name it Pluto 3-D. We plan on releasing it Thanksgiving week.
DX: What's the status with Super Future and Fire Marshall Future then? Are they getting pushed back, because I know you guys were aiming for that to originally drop some time in October.
Future: Yup.
DX: Any idea on a pushed release or does it depend on what happens with Pluto 3-D?
Future: It all depends on what happens with Pluto 3-D.
DX: I know after Super Future and Fire Marshall Future, you're planning on releasing Future Hendrix, your follow-up to Pluto. What's the latest on that project? Is there anything you're stylistically tying into Jimi Hendrix or did he just served as an inspiration for the album?
Future: It was a little of both. With Jimi Hendrix, he was a dude that was just different with what he did, and with the music that I make, I feel like I'm different [as well]. It was just another way of saying I'm different, just adding the Hendrix.
DX: Where is that album going compared to where Pluto took listeners? Is it taking that sound further? Is it a drastic departure.

Future: I call it "astronaut music" because it's timeless music. I feel like I'm very melodic. It's passionate. It's music on Pluto, whereas Future Hendrix is more soulful music, music from the soul.
DX: Speaking on the melody part of it, for those who have heard and really consumed Pluto, they know the music is very melodically rich, and you had mentioned before that your cousin Rico Wade had really instilled that in you. Do the tracks really start with the melody for you when you're in the studio?
Future: I just go in the booth and do whatever I feel, however it start out. There's no particular way to go and make a record. Go and do what you feel.
DX: So it's just a matter of staying open and listening to what comes out in that moment, of not being afraid to let it come out?
Future: Yeah. Exactly.
Future Confirms Kanye West Collaboration
DX: In another interview, you had alluded to recently collaborating with Kanye West and Diplo. How did those sessions pan out? Can we look forward to seeing those tracks appearing on Future Hendrix or possibly even on Pluto 3-D?
Future: The Diplo [track] might be coming out next year on Future Hendrix. The same with Kanye [West's track]. It's something I'm gonna work on for Future Hendrix or either work on his album or any project that he's working on, so you never know where it'll take you. You just gotta make sure you make hit records and be prepared for wherever they go to. You just want to be prepared for success.
DX: I know you had mentioned wanting to be around innovators, people who are really pushing the envelope. Was it really inspirational working with those guys considering their track record?
Future: It's always innovative working with anybody who passionate about what they do. Those guys are very passionate and always looking for new ways to create and be original and just perfect the craft and all the way around just bringing a hit record to the table for the Hip Hop community. What you gotta when it's like that is make sure you go in and you be prepared to work hard.
DX: I wanted to get into your single "Magic," featuring T.I. It was actually the first track Tip hopped on after being released. What was it about "Magic" that made it his first feature after he was free?
Future: "Magic" was the hottest record when he first got out. "Magic" was the hottest record on the street. It was going on the charts and he just wanted to be a part of something great. Great people like to be a part of greatness.
DX: With you sitting in on sessions with your Cousin Rico Wade and the whole Dungeon Family, how long did it take sitting in and soaking that in before you felt you had a real grasp on what you wanted to sound like?
Future: About six years.
DX: At what moment did you know it was time to really push as Future and break out as your own artist?
Future: When I dropped my first mixtape, the 1000 mixtape. After that one, I decided I [wasn't] gonna just drop one and never drop one ever again. [I decided] I'm just gonna drop one every three months. You gotta get the people's ear, know what I mean? Keep it coming consistent.
DX: Speaking on being ready when your moment comes, in addition to being in the studio for a long time with your cousin Rico, you'd also said in interviews that you really sat in on label negotiations with other artists before you were taking your own meetings. What did you learn in those meetings that allowed you to sign a contract that you felt was in your best interests when you got one yourself?
Future: To just wait it out for the best opportunity. You gotta be patient, just let the lawyers work and not settle for nothing. You just gotta go in and know what you want and demand what you want. If they don't give you what you want, you just keep grinding. Whatever you expect to get from it, you can find someone who's willing to give it to you, so you gotta be patient and wait for it, so when you go in there, just keep your eyes open and your ears listening and just make sure whatever it is, you see it and make [sure] it makes sense.
DX: Speaking on you being a writer in addition to being an artist, it's been known for a while that you wrote YC's "Racks." With that said, have you still been writing songs for other artists or has your energy shifted to solely working on your own stuff?
Future: Most definitely. I [write] for different artists, most defintely. Rap and R&B.

DX: What's the main difference you feel between that and focusing on your work as a solo artist? How do you tackle those two differently?
Future: It's just a different approach for it. As a writer and an artist, you make sure that, while you promote yourself, you get a chance to promote your writing and just your sound, period. Sometimes it be about that sound and you get [the chance to get] your sound out there. I want to make the radio sound like Future. Whether I'm doing a record or someone else [is] doing the record, you gonna be able to tell my sound and identify with me. It's just another way to get your music heard without me actually having been on the track.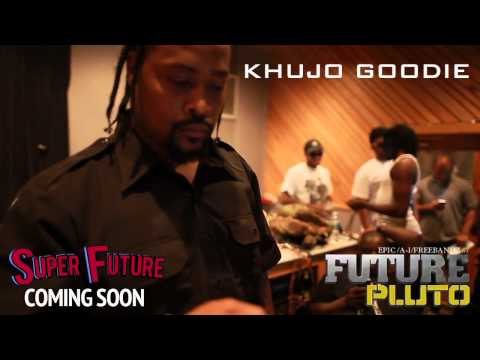 DX: I wanted to revisit a moment on your Pluto Vlog, when you said "I had to dumb my music down to get the listener's ear but now I know where I can come back and take them. I can always come back and take them somewhere because I got they ear now." With that said, where do you plan to take the listener now that there's a real sizable audience that's aware of your name and what you do?
Future: I'm gonna keep giving them more and more substance and just give somebody life-changing words. When they're listening to [the music], I know certain things they go through in they life and I want to be able to feel like when they hear me, they feel like I'm going through it with them and they not going through it alone. [I want to] find records that I'm gonna put out that touch the people at the bottom or at the top, or just the Average Joe, you know? I'm trying to connect to they hearts and they minds and actually help them to deal and get on to the next thing. Behind every rap, there's a message to connect with the fans.
DX: You've said you're getting closer to the level of success and achievements that you want to reach but that you're not totally there yet. What kind of levels to you really hope to achieve before you feel like you'll be truly satisfied and that you've really perfected your craft?

Future: VMA awards. Grammys. Man, just #1 record after #1 record. Have an artist with a number one record – I want to be a part of that.
DX: So for you, you're not just looking at this as an artist. You'd really like to get to a position where you can line up artists and really continue as an exec? That's in the long-term plan?
Future: Yeah, I want to help develop an artist from the beginning and watch them grow and see how far they can go. A Pop artist, whether it's a female Pop artist or male, or a female rapper or a dude rapper. It don't matter. I just want to see the music grow and see the artist grow.
Future's Craziest "Same Damn Time" Moments
DX: As the master of doing things at the same damn time, what's the craziest combination of two things that you've done at the same damn time?
Future: The craziest thing I've ever done at the same damn time . . . I can't really say. You can just be on the phone and eating at the same damn time. You could be on the phone and in the booth at the same damn time. Rapping and texting at the same damn time – there are so many things I do at the same damn time.
Purchase Music by Future