Today (November 9), on the twentieth anniversary of legendary Hip Hop releases from A Tribe Called Quest and Wu-Tang Clan with Midnight Marauders and Enter The Wu-Tang (36 Chambers) respectively, this week's top 10 is held down almost entirely by Detroit emcee Eminem. With the recent release of his eighth studio album, Eminem has also matched a record held for nearly half a century by The Beatles as the first artist to simultaneously hold four songs on the Billboard's Top 20 as a lead artist (the ubiquitous English band accomplished the feat in 1964). With "The Monster," "Berzerk," "Survival," and "Rap God" placed on Billboard's Top 20 in that order, DX's own list features an alternate set of tracks beginning with the Buckshot featuring "Don't Front" and ending with an exclusive Youtube performance of "Rap God."
Besides Em's domination, the list also prominently features a new Busta Rhymes single with features from Q-Tip, Lil Wayne, and Kanye West. And while Childish Gambino anchors the list with a new song, a detractor of his claims the fourth spot with blogger/emcee DDot Omen's diss called "Ether-Net" (presumably attacking Gambino's upcoming because the internet album title amongst other things).
Eminem Remakes Black Moon's "I Got Cha Opin" On "Don't Front"
With Eminem's The Marshall Mathers LP 2 released earlier this week after a calculated build-up, one of the album's bonus tracks, "Don't Front," finds the Detroit emcee remaking Black Moon's "I Got Cha Opin" from the Brooklyn crew's debut album, Enta da Stage. Em's version, "Don't Front," not only tops this week's Top 10 but also features prominently on the soundtrack of the recently released videogame Call Of Duty: Ghosts, which hit stores on the same day as Eminem's latest album (Tuesday, November 5).
The song features Black Moon emcee and Duck Down mainstay Buckshot on the chorus and leading into each verse. Earlier this week Buckshot spoke exclusively to HipHopDX about the process and his own reaction to Em's remake. "In your head, you kind of don't think anything," Buckshot said. "You're just happy that a person wanted to do the record. It was more of a shock than anything. You don't have stuff like that in your mind, like, 'Someone's going to do my record over.' That's not something [I think about]." The Brooklyn native went on to describe his own reverence for Eminem. "If you ever doubted Eminem as any type of a spitter, listen to 'Don't Front' and that shit will convince you nine-fold," he said. "When I listen to that record, he's not a game."
"Don't Front" was released in full just weeks after the twentieth anniversary of Black Moon's Enta da Stage, which was originally released on October 19, 1993.
Busta Rhymes Teams Up With Q-Tip, Lil Wayne, And Kanye West For "Thank You"
Representing an amalgam of historical musical connections, Busta Rhymes' latest single from his upcoming Extinction Level Event 2 album features longtime collaborator Q-Tip alongside the frontman of the label that most recently signed him in Lil Wayne. While it is only Tip and Busta that deliver verses on "Thank You," both Wayne and Kanye West make appearances via adlibs throughout the song. More than a year ago, while at the annual BET Hip-Hop Awards Show in 2012, Q-Tip made mention of "Thank You" in an interview with Vibe, asking fans to utilize social media like Facebook and Twitter to call for Busta's use of the song as his first single to this upcoming album. While that call never materialized results—"Twerk It" has since claimed the honor of acting as Busta's first Cash Money single—we now have the full audio of "Thank You" responsible for the second spot on DX's weekly Top 10.
The song is built on an open sample of Alicia Meyers' 1981 Disco track "I Want To Thank You" and acts as another reminder of Busta's upcoming sequel to the first Extinction Level Event released more than a decade ago in 1998.
Eminem's "The Marshall Mathers LP 2" Takes Over The Top 10
Besides holding down the top spot with the recently released "Don't Front," Eminem has tightened his grasp on DX's weekly Top 10 this week with a slew of songs from The Marshall Mathers LP 2. Last week's most listened to song, the Kendrick Lamar featuring "Love Game," has been knocked down two spots to #3, while another bonus track, "Groundhog Day," makes its first claim on the list at #5. "Groundhog Day" seems to pay ode to the popular film by the same name and finds Eminem continually retelling and referencing his history within the industry. "I remember Proof would visit, couldn't wait to play him my new shit," he raps, "He'd go complete ballistic, go through the roof for his shit / It's like we knew the instant / We touched a mic that both of us two existed / To do this shit / Never quit, too persistent."
Following in kind, Australian singer/songwriter Sia features on another song that doesn't appear on the normal retail version of The Marshall Mathers LP 2 with "Beautiful Pain," which accompanies the deluxe version of the album's release. The song has again rekindled the issue of Eminem's sometime homophobic lyrics given Sia's publicized bisexuality. For her part, after answering several questions about her involvement on the album, Sia has recently come forward with news that she will donate her end of the profits from the song to homeless LGBT youth in the Los Angeles area.
Eminem's spot on the list extends beyond album tracks but also includes the melancholy sixth song on the record, called "Legacy." On the song, Eminem looks back at his childhood insecurities and hardships with a recurring chorus performed by singer Polina. "Instead of tryin'a escape through my comics / Why don't I just blast a little something like Onyx / To put me in the mood to wanna fight and write songs that / Say what I wanna say to the kid that said that I eyeballed him."
Eminem's take on the list is rounded out by his appearance alongside Slaughterhouse on BET's "The Backroom" as well as an exclusive YouTube video appearance of his hit song "Rap God" for the website's recent inaugural awards show. Both videos can be streamed below.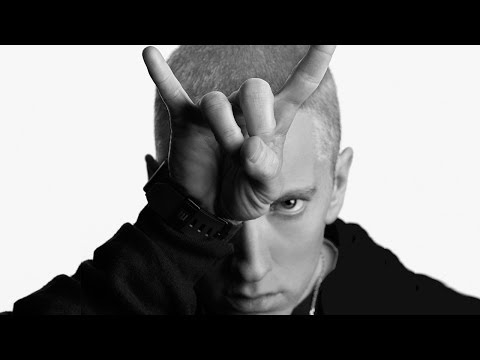 This Week's Top 10
1. Eminem f. Buckshot – "Don't Front"
2. Busta Rhymes f. Q-Tip, Lil Wayne & Kanye West – "Thank You"
3. Eminem f. Kendrick Lamar – "Love Game"
4. DDot Omen – "Ether-Net (Childish Gambino Diss)"
6. Eminem f. Sia – "Beautiful Pain"
7. Eminem & Slaughterhouse Rap On BET's "The Backroom" [Video]
9. Eminem – "Rap God" (2013 YouTube Music Awards Performance) [Video]
10. Childish Gambino – "Melrose"
RELATED: Buckshot Was Shocked Eminem Remade "I Got Cha Opin" On "Don't Front"