Just over a month removed from the release of his second commercial album, B.O.A.T.S. II #MeTime, which was released less than a year after his debut, 2 Chainz stopped by Hot 93.7's Hot Afternoon Show in Hartford, CT and revealed to host Jenny Boom that he has already begun working on his third album. Formerly associated as a half of the group Playaz Circle under the name Tity Boi, 2 Chainz changed his artist name in 2011 and greater commercial success soon followed with the release of his mixtape T.R.U. REALigion.
On the show, 2 Chainz commented on the frequency of his release schedule with a reference to his experience with noncommercial releases. "I come from the mixtape world, the mixtape market," he said. "So, for me to put out quality street music in an album format is good for my fanbase. I'm already working on my third album, I have a single already. I never stop—the day my album dropped, I went to the studio."
2 Chainz's latest album also featured a deluxe edition coupled with a self-penned recipe book from the rapper himself. "I have a cook book with my deluxe album called 'Meal Time,'" he said. "It has opened up a lot of different doors to talk about a healthy lifestyle, healthy eating, and what food does for me, as far as me having stomach ailments, having to be in the public as much as I have to be, and at the top of my health—I have ulcers and I have acid reflux, I have my good days and I have my days where I can't move. For me, I have to have a certain lifestyle—a certain eating regiment, can't get too full, can't get too hungry," he said. He explained the unconventional move with a reference to his own hit single from his debut album. "When you have song like 'I'm Different,' you can't be a cliche type of person. I decided to put out something fun and educational at the same time."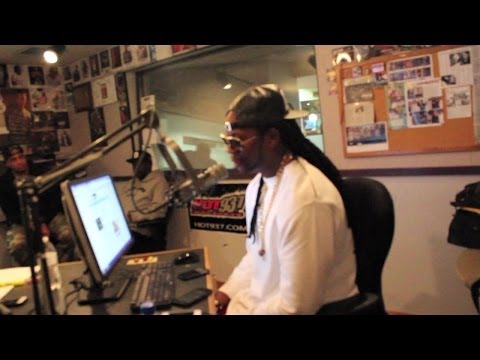 The rapper went on to answer a question about the possibility of his signing officially with a new imprint given his long-standing working relationship with artists and labels like Lil Wayne and G.O.O.D. Music. "I'm family to a lot of these organizations," he said. "I've been on Wayne and Baby and them for over 10 years. My newest single, Mannie Fresh produced, just to show the camaraderie that we have," he said. "I'll always be thankful for what Cash Money did for my campaign—Wayne took me on tour with him in [2008], the I Am Music Tour, one of the biggest selling tours ever. He put me on stage...let me create a fan base and at the same time I'm working on a mixtape, at the same time I'm in a learning process. And with G.O.O.D. Music, that's more or less like a family." Continuing, 2 Chainz turned down the possibility of an official deal with G.O.O.D. Music while remaining optimistic that the working relationship would continue on course. "I have a strong affiliation with G.O.O.D. Music," he said. "Regardless of the paperwork...everything is under the Def jam umbrella, we're all working together."
2 Chainz also explained the motivation behind securing a Jay Z feature for his still untitled third commercial record. "I always had it in mind that I was gonna put Jay Z on my third album," he said. "Some people skip steps and then wonder why they don't have anywhere to go, they build these glass ceilings. I still feel like I have room to grow, I haven't peaked out yet. It's always exciting to get a verse or something like that from Jay Z for the new album." When asked if a Jay Z feature would fulfill his desire to work alongside great artists, 2 Chainz added that there are several other rappers he would still like to collaborate with. "You've still got Eminem," he said, "you've got Andre 3000. You've got your 'A' list and then you've got your 'A-A' list. I guess you got a triple 'A' list. You've got your certain people that are very successful in the game right now—Drizzy, Wayne, myself, Ross, Sean."
With a more general reference to his future in the music business, 2 Chainz reported that he simply wants to continue thriving as a solo artist. "I want to continue doing me, continue growing as an artist, to be a successful mainstream artist." Looking back at his recent rise to commercial prominence, the College Park native took time to reflect on the process. "It's been one hell of a ride. It's hard for me to really enjoy the success of 2 Chainz," he said. "I'm a product of hard work, I enjoy the grind– dropping two albums in one year, touring, videos, etc., it's not easy, there's only a few people who can do that. I'm just happy to satisfy my fans."
Related: 2 Chainz Reveals Whether He Lets His Children Listen To His Music