Following a week dominated by Kendrick Lamar's calling out the industry, this week finds another Big Sean track at the top and the dust starting to settle over "Control." Two Canadian artists with albums due in September, first The Weeknd and then Drake, team up again for a song from the R&B singer's September 10 release Kiss Land. Despite slipping a few spots, Lamar's "Control" verse is still in heavy rotation and responsible for a few of the other songs on the list including a new response from Lupe Fiasco and Joe Budden. Finally, Juicy J's upcoming solo debut, Stay Trippy, has a successful single with a Justin Timberlake appearance ahead of next week's release.
With Hall Of Fame Days Away, Big Sean Lets Loose A Nas And Kid Cudi Featuring Single
After months of speculation, Detroit emcee Big Sean's sophomore release is finally set to be released next week. With a non-album cut generating plenty of buzz for Sean last week, this week's single comes packaged with appearances from Nas and former G.O.O.D. Music labelmate Kid Cudi. The track, "First Chain," finds Sean reflecting on the current state of his native city, a subject fellow Detroit emcee Danny Brown recently felt was lost on the Hall Of Fame rapper, as well as his rise to prominence, rapping, "And it's a shame, a fuckin' shame / I don't remember my first love or my first time prayin' / But remember my first ass and the first time she came / It almost felt as good as when I got my first chain."
The Weeknd And Drake Link Up Again On "Live For"
With The Weeknd's Kiss Land due out on September 10 and Drake's Nothing Was The Same with an updated September 24 release date, the two Canadian artists have reunited yet again on the Kiss Land single "Live For." The single comes just weeks after The Weeknd's surprise appearance at Drake's OVO Festival in Toronto earlier this month. The song starts with The Weeknd's singing "Getting sober for a day / Got me feeling too low" and ends with Drake rapping "This that shit we really gotta talk about in person / There's some shit I need to work on, but I know you see me working / Nigga, champagne."
Lupe Releases Another Installation Of "Super Lupe Rap"
Continuing his onslaught of responses to Kendrick Lamar's "Control" verse, Lupe Fiasco lets loose yet another "SLR" cut. The track, subtitled "Round Of Applause," finds Lupe nodding to Mickey Factz while simultaneously disregarding lesser rappers, "Aye Mickey, what the wicky-wicky wack doin'?" Lupe's signature lyricism continues with rhymes like, "So what we got here? Some Top Ramen talkin' bout some top tier / Some top rhymin' to some boxed ears / Such a waste of my timin', that's why I'm not here."
A$AP Mob Makes An Appearance On Funk Master Flex
Promoting A$AP Ferg's just released Trap Lord, the A$AP crew took to Funk Master Flex's show to voice yet another lyrical rebuttal to Kendrick Lamar. On the show, Ferg makes mention of Kendrick Lamar and another TDE rapper in his response, spitting, "Schoolboy you betta school ya boy / Hit you wit' the ruler boy / I'm the new 50 Cent, I will fuckin' Ja Rule ya boy / Sh-sh-sh-shabba Ranks, before I hit you with the toola boy / Hit'em wit' the chopsticks, I will fuckin' Thai food ya boy / I don't sell rocks, nigga I smoke'em / Fuck around on crack and that's no jokin'."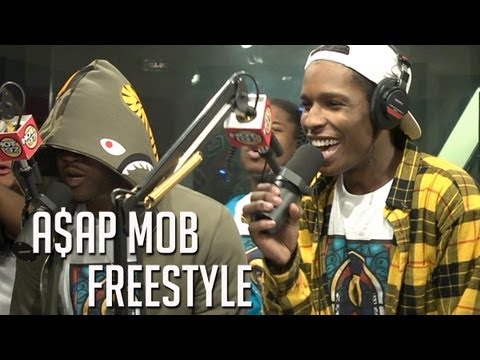 Top 10 Most Popular Singles Of The Week
1. Big Sean f. Nas & Kid Cudi - "First Chain"
2. The Weeknd f. Drake - "Live For"
3. Lupe Fiasco - "SLR 3: Round Of Applause (Kendrick Lamar Response)"
4. A$AP Rocky & A$AP Mob - Responds To Kendrick Lamar's "Control" Verse And Freestyles
5. Joe Budden - "Lost Control (Kendrick Lamar Response)"
6. Big Sean f. Kendrick Lamar & Jay Electronica - "Control (HOF)"
7. Juicy J f. Justin Timberlake - "The Woods"
8.Big Sean f. Ellie Goulding - "You Don't Know"
9. Joell Ortiz - "Outta Control (Response to Kendrick Lamar)"
10.Papoose - "Control Freestyle (Kendrick Lamar Response)"
Related: Big Sean Explains How Kanye West Influenced "First Chain," Addresses Detroit Bankruptcy