Snoop Dogg and Wiz Khalifa are currently prepping the release of their soundtrack for Mac & Devin Go to High School, a precursor to their weed-friendly film. During an interview with AMP 97.1, the duo explained how their friendship came to be before performing their cut "You Can't Put It in a Zag, I'mma Put It in a Blunt."
"Snoop hit me up; he reached out. Just as a fan and as a real person," recalled Wiz. "And just told me that he loved my movement and was really interested in not only working with me, but when we linked up he was like, 'Yo, I just want to help you maximize what you're doing, y'know what I'm saying?'"
Snoop echoed his sentiments, claiming that their friendship was strong from the start. "My brother from another mother. Everything I loved he loved. It was like watching myself all over again just seeing a young Snoop Dogg all over again," he said. "He had a lot of people in his hands and he was leading them in the right direction and I was just wanted to make sure that he knew that he was doing the right thing and to keep doing what he was doing. He continued to do it."
Watch the two perform "You Can Put It in a Zig, I'mma Put It in a Blunt" below.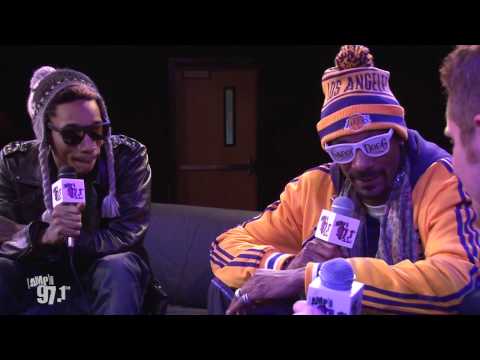 RELATED: Wiz Khalifa Speaks On Grammy Nominations, Filming With Snoop Dogg