Canadian rapper JD Era is quickly becoming a household name here in the U.S. But the Toronto emcee is no freshman to the rap game. With his last release Th1rte3n available on I-Tunes and a well-earned reputation as one of Canada's best freestylers, the award-winning emcee is the marquee artist to represent Raekwon's Ice H20 Records, making Era's American debut a defining moment for Canadian Hip Hop.
Recently JD Era spoke to DXnext about healthy competition with his Wu-Tang mentor and his "No Handouts" approach to releasing six successful mixtapes.
Verbal Intercourse: "I come from a battle background, so lyrics have always been really important to me. I listened to guys like Canibus, Mos Def, [Jay-Z], Nas, and [The Notorious B.I.G.]. They all have bars so growing up I was trying to emulate that. It evolved into my own style and I just try to keep it fresh for my generation. I think that lyricism is missing in some of the new artists. I'm not focused on trying to get a number one hit right now; I'm just focused on making music I enjoy. To have someone like Raekwon who is one of the more lyrical people in Hip Hop supporting me, I have no choice but to represent that lyrical authentic Hip Hop."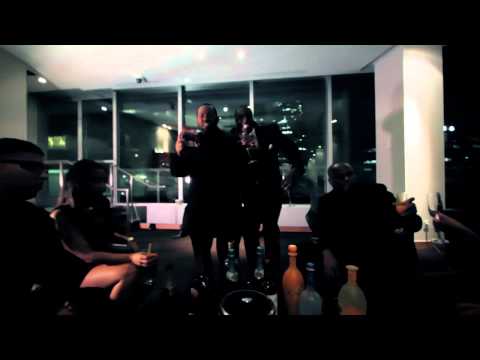 On His Relationship With Ice H20 CEO Raekwon: "It's a little bit of both a partnership and a mentorship. When we're on records, it's competition because that's the emcee in us both. Being able to be competitive with Raekwon, I got no choice but to keep my sword sharp. It's like a constant training, and that's ill. On top of it all, he's like an ill reference point, He's seen people come and go. So to have him critique [me], obviously I'm gonna be better. I'm just trying to soak it up and represent for my town.
People underestimate Rae's ear for music; he got a crazy ear. I'm trying to get him to do [Only Built 4 Cuban Linx...Pt. III]. To me, that's being part of something crazy, something historic. That's what I care about."
Canada Eh!: "The idea of a Canadian rapper was 'new' to a lot of people. To me, it's just Hip-Hop growing. Hip-Hop is becoming global because the music and culture is getting older. If you get enough nice emcees from (Canada) people are going to accept it and not trip on where you are from.
Growing up, guys like Maestro Fresh Wes influenced me. I always got to see him and Kardinal Offishall locally, even while they were enjoying mainstream success.
Infinite was always ill to me as well as Choclair, Saukrates. They are all like big brothers to. Before I was focused on getting my music to the U.S., these were the dudes I was trying to impress."

Freshman Magazine Covers & Mainstream Acceptance: "It's nice to be recognized by your peers but for me it's about progression. As long as I'm getting closer to where I want to be I'm satisfied. My fans have been loyal so far and I really believe in the organic approach. It will build properly if you set it up right. I don't trip on not being on any lists."
On Working With Rapper Mac Miller And Producers 9th Wonder And Lex Luger: "Lex [Luger] is a good friend of one of my homies and he wanted to send me some music. I sent back 'Yoga Flame' and he was feeling it. He sent me that 'Smoking Good' record and we shot a video for that that's doing well. Mac Miller came through in the clutch; most of my tape was pretty much done. A lot of people came through at the end. This next project I'm doing I'm looking forward to being able to retell my memories of being able to sit down with people and work. I want to leave with those memories. 9th Wonder was through Rae. He heard my stuff when he came to Toronto and we connected from there. He is mad cool. 9th is one of the realest dudes to just sit and chop it up with. His music knowledge is crazy!"
On Being A New Artist: "It feels good to know that my country and the US are checking for me. I feel good to feel the love at all 35 shows I performed in the US, even from diehard Wu-Tang [Clan] crowds. I needed the process of paying dues. I feel like a lot of people get ahead of themselves. It's not so much that the opportunity came so fast. This is exactly how I would map it out and I feel like I am at a perfect stride right now. It feels good and as much work as I've done in Canada, I feel like a new artist in the US. It's a good energy. It keeps me hungry. It's good to have people paying attention to my project because I worked with several new Canadian artists and producers. My project is my perspective on Hip Hop. I listen to music from all over and that's my vibe. I can make a song like 'Yoga Flame' and still rock to some 9th Wonder shit and nothing feels out of place. That's what I like about my mixtape; everyone I play it for likes a different record. And I think that's how I intended it to be that way."
The Motto: "Over the years since we been grinding, my philosophy has always been for my immediate team is that if we don't do it ourselves it will not get done. I hope people feel that energy when they listen. There are no handouts in this game. I'm trying to take that energy and bring it back to my country and city and show them that it doesn't stop locally. If you want to take it to the next level you have to put the work in. Th1rte3n was more about me being a lyricist; No Handouts is about me being able to show I could make good songs. I wanted to put out a project that was versatile and that you could listen to front to back."
Older Gods: "Yes Wu-Tang is definitely a musical influence. In terms of my business decision, it was a great decision. But on a personal level, Rae and I just connected on a different level. I had the chance to chop it up with a lot of artists, talk face to face and it was a no-brainer for me. I'd rather work with someone who has my back rather than work with someone who doesn't make the time for me because they don't want to make the time for me. He did everything he said he was going to do and I feel good because I'm comfortable. He wants to see me win more than anything. It's crazy to have a legend care so much about my career. It's also dope for me because I get to watch Rae reinvent himself again. I know what he's done as an artist and everyone knows what Wu-Tang has done as a group but it's special for me to watch him grow on a business level and for me to be a part of it. That's priceless in itself."
Purchase Music by JD Era