Jared Evan has been making his musical rounds recently. He has appeared on tracks with the likes of Styles P, Statik Selektah, and most recently Pharrell and Game. After a successful debut at the Brooklyn Hip-Hop Festival in 2008, Jared started off as an opening act for Lupe Fiasco and then finally was able to secure a label deal with Polow Da Don at Zone 4/Interscope a year later. This musical journey has been a long one for Jared and after fighting his way to the top, he plans to stay there. With various singles being released along with an EP on the way in 2012, Jared hopes that all his fans (new and old) will be able to get his message.
DXnext recently sat down with Jared to discuss his introduction to music, songwriting skills and overall view on hip hop.
First Instrument: "Drums were the first instrument that I learned how to play. It all started with the drums. I started playing the drums at like four or five years old. My dad turned me on to a lot of Classic Rock bands like Steely Dan and bands like that. However, before that, without any influence, I gravitated towards playing the drums and I would just start knocking on stuff in my basement with Nock Hockey sticks and I told my parents that I wanted to play the drums. My dad's best friend had an old Ludwig drum-set from the 1960s that he lent to us. My dad set it up in our basement and every day after school, when I was six or seven, I would spend hours banging on them. I didn't know what I was doing, I was basically self-taught in the beginning but then after three or four months I got a teacher."
Influence on Your Music: "My music is very emotional. A lot of artists make music to have fun and party. I respect that and there are moments in my music where I do that too, but the motivation for me to make music is like therapy. I make music because there are things and ideas in my mind that I want to express. The shit that I went through growing up is definitely reflective in my music. When I make these records, I am going back to the time in my life where no one understood me. There were times when I was growing up where teachers would blackball me. I grew up with ADHD and was on all these meds. I guess I was just 'that kid.' I didn't do my homework, just wanted to go home and play the drums. I had a lot of frustration growing up and I did not know why. Eventually, I got sent away to this school when I was 11 years old, kind of like a boarding school for troubled kids. Even when I went away to that school I was like 'Why am I here? I'm normal, they're fucked up.' I was at the school for two years and after those two years I looked back and was actually really thankful. The school definitely helped me and made me a different person. There was a bunch of shit that helped me make my music."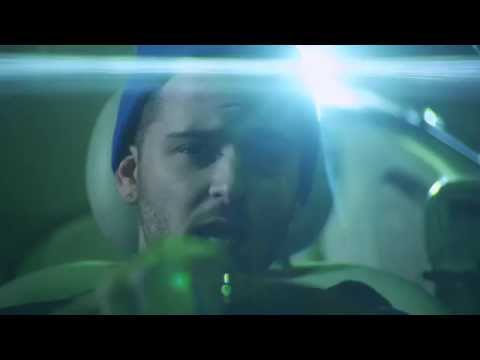 Most Emotional Song: "I would have to say a song called 'Frozen' that I wrote one-and-a-half years ago. It was actually the song that got me a record deal. Even the song I just put out called 'Traffic Light' is pretty deep as well. 'Traffic Light' really explains my musical journey as opposed to my personal childhood stuff. 'Frozen' is that record where I had some sort of a 'wave of lightning' where it only took me about 20 minutes to write the song. I was almost crying these lyrics out; the words just came out of me. The song ended up on the LeBron James' More Than A Game soundtrack and got me the record deal. I think when people heard the song; it made them feel the same way I felt which is why it did what it did for me."
Song Making Process: "I would say that during the entire process of making a song, the hardest thing that I had to learn was actually formatting a song correctly so it can be appreciated universally. The post hook, pre-hook, bridge and stuff like that. Before I got into this world, I would just make a song with a 24 bar verse and the hook would come after a certain time. Sometimes there would be a bridge and sometimes there wouldn't be. I just had no format."
Advice from Pharrell: "Pharrell kind of put me onto the record label world. The advice I got from Pharrell really taught me a lot. He made me realize that you have to make records that feel right for you. No matter what musical bed you are laying in, meaning whoever is producing your record, you will still sound like yourself if it's natural. If I do a record with Marilyn Manson and then I do one with DJ Premier, what Pharrell instilled in my mind is that you can still be the same person if you just dig deep. The overall energy he gives is similar to mine. I worked with him for a week straight for probably seven hours a day. When you are with someone like that every day for a week, you really see who they are. He was like the yin to my yang. We did three records in total. One got leaked ("Anywhere") and we plan to do even more. We have yet to do all the shit we want to do together."

Brooklyn Hip-Hop Festival: "That was the most nervous I have ever been. I used to be in a few bands growing up so I have been on stage before, but that was me being the drummer. The Brooklyn Hip-Hop Festival was the first time that it was me being the performer up front. I was in front one of the most critical musical crowds ever. I just went out there and did my thing. After I did it, I realized 'I could do this; I am a rapper.' From that moment on, I had the confidence and that is really important when you are doing this shit. You have to be humble and know where you are at but you really have to know what you are doing. After the Brooklyn festival, all of the dominoes started to fall and the evolution began."
Success in Greece: "That was amazing. I was definitely expecting success from that record ("In Love with You") in general but the success in Greece was a total surprise. It's not like my label pushed it there so it was definitely a great surprise. I was just expecting the song to be a viral thing, which it was. People were buying the song on ITunes and all that, which was great and everything went according to plan. When the track blew up in Greece that was the frosting on top of it all. It felt really good and definitely took me to the next level in my career. The hosts of Greece's number one television show were looking for songs with the word 'love' on YouTube and my video came up. They loved the song and aired it on the show in Greece for three weeks and all the traffic from the show went to iTunes and it became #1 in Greece. It was crazy."
Hip Hop Today: "I feel that there are certain aspects of Hip Hop right now that are really good. People like B.o.B., Drake and Tyler, The Creator are dope. I fuck with all those guys hard. At the same time, I think that Hip Hop can definitely use more of these kinds of artists. What Hip Hop is lacking is a united movement of artists like that. There is a lot of creativity going on in Hip Hop. Five years ago it wasn't like this. People got bored and that's why people are doing what they are doing now. There are a lot more rapper/singers as opposed to just rappers. I was just a little kid in the '90s but I would assume that in 1995, if you were an emotional rapper with singing and stuff, you would not get the same acceptance that you would right now. Overall, I think Hip Hop is in a good place and it will be in an even greater place. I want to contribute to that."
Future Projects: "The last song I released was called 'Traffic Light' and that is going to be off an EP I am doing. I have done mixtapes and stuff like that but I want something to really hit people. This is not my debut album, just an EP. It is just a sample of what's to come the content will be definitely album-worthy. It will be called The Fourth Chapter. That's what I have in line for 2012 right now."