With two 9th Wonder & Buckshot album-covers, published cover-shoots with Q-Tip and Sean Price, and a large museum piece in the works, Robert Adam Mayer is a true veteran when it comes to photographing Hip Hop. He's even started to branch out into music videos, with YC the Cynic's "More And More" video being the fourth one under his belt. Despite his accomplishments, he is still truly grateful to be a part of the greater Hip Hop community.
Photo Rob's story involved plenty of hard work before it paid off – countless shoots backstage at the Knitting Factory finally caught the attention of Duck Down Records, who enlisted him in 2007 to shoot the cover for 9th Wonder & Buckshot's The Formula. That break led to several more covers and a list of work that now includes Maffew Ragazino's Rhyme Pays, Tanya Morgan's Brooklynati, and Kidz in the Hall's The In Crowd. Even with much more exposure, he's still just as thankful to get paid to cover a genre that he truly loves on a daily basis.
Robert spoke with DX about what it was like to shoot Q-Tip and Sean Price as well as his initial rise in the Hip Hop community. We also spoke about his first exposure to street art, his interest in Hip Hop, and the amazing feeling that comes from your dreams coming true.
Photograph by Jennifer Gerardi
On First Being Exposed to Street Art and Portraiture: "I first was interested in street photography [when], as a young kid I would sit in the library art section and I would look at, pretty much specifically, the art books of Henri Cartier-Bresson and the portraiture of Irving Penn, and then later the Jazz photography of Herman Leonard. These are the guys who I kind of looked up to in terms of a visual language and how these artists and brilliant creators kind of communicated with photos, because it really does have a separate language of its own once you start studying it."
"I'm not a Paparazzo": "I'm not really interested in taking your picture if you don't want me to. And it's funny, even last night, I was at a party where ?uestlove was spinning, and I gestured to ?uestlove with my camera and pointed at him and said "Is this okay?" because I'm not a Paparazzi. I like taking pictures where people are not aware of it, but if somebody doesn't want their picture taken and I'm able to understand that, then I don't take their picture. I prefer seated photo sessions. I'm not a Paparazzo. I'm not there to be grabbing your photo against your wishes. That's just not how I do it."
Sometimes People Do Say No: "I know my photos sometimes are all we have after an event. I was at a pub about 15 years ago and I was just hanging out with some friends, having a nice meal, and Bruce Springsteen came in and sat down to have a meal and play some pool. I carry my camera around and I went up to Bruce and said 'Would you mind if I took your photo?' He was sitting by the window, hanging out with some buddies, and it was an awesome picture. I asked him if he would mind if I took his photo and he said no, so I left him alone."
On Photographing Q-Tip: "Photographing Q-Tip . . . That was one of my favorites. That was a shoot for the Wax Poetics cover in 2008. It was a really great shoot for me. I was very excited because I happen to be a huge A Tribe Called Quest fan and supporter, so to be able to photograph one of my idols and a legend was a real great opportunity. The Native Tongues history is such a rich part of Hip Hop, and a real genre changer at that time. [It also had] a real cross-back radio effect, which brought a lot of good Hip Hop back on the radio."
On Shooting Sean Price: "Sean Price, man . . . What a great emcee. . . . Photographing Sean Price was really fun. He's a really cool dude and he was very gracious with his time. I cannot speak highly enough about the Duck Down [Music] crew in its entirety. It's top to bottom a deep and important part of Hip Hop, and to photograph Sean Price was awesome. I photographed him several times, and I really enjoy photographing him. I really enjoy his music as well as the Duck Down guys. That was my intro into starting to work with the Duck Down family, actually. I did the magazine cover for Pound magazine, and then after meeting the Duck Down guys, I ended up working with Duck Down on several projects."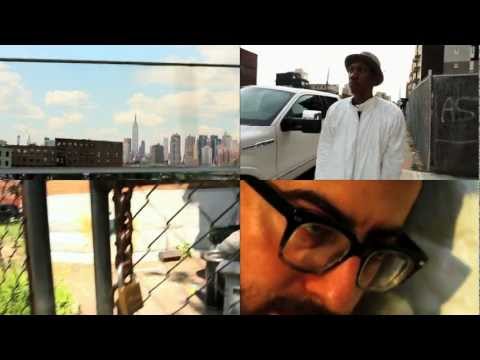 On Venturing into Music Videos: "[YC The Cynic's 'More and More'] is my fourth music video, and I'm really starting to get the results that I like. Since the photography is really blossoming, I'm able to kind of use that to get these really great production teams. This last team that we put together for the [YC the Cynic] 'More and More' video – this video was a real team effort, so I think the video speaks for itself. The feedback that I've been getting from this video has been really wonderful. . . . It's just a great posse cut. I heard the song and I got in touch with YC to say 'Yo, I gotta do a video of this. This is such an awesome track,' and we just started to communicate and collaborate from that point in."
On How He First Got Interested in Hip Hop: "I always just thought Hip Hop culture was cool as a little kid. I would see kids doing the Electric Boogie, which then later then became called popping – pop-dancing and break-dancing. My brother also introduced me to some Hip Hop cassettes when I was like nine years old. Eventually, I think I really started to seek out Hip Hop in a real way in the '80s. During the mid-to-late '80s, I really start buying Hip Hop albums on my own. And then doing it into photography, I first created a portfolio and went to magazines, and the magazines already had their staff set, so when that didn't seem to pan out quickly enough for me, I went directly to the artists."
On His Start in Hip Hop Photography: "I first started going to B-boy battles. I had done a few shoots, but I wasn't really shooting a lot of Hip Hop. I love Hip Hop – the music, the genre and the culture, so I started going to B-boy battles and graffiti exhibitions and also the DMC Championships – I would go check out the [turntablist] exhibitions and battles . I just started seeking out what I loved, so I went to these B-boy battles and magazine parties. 2007 is really when the doors started to open for me in terms of really photographing Hip Hop in an active way. I shot [9th Wonder & Buckshot's] The Formula cover in 2007. I started documenting backstage at the Brooklyn Hip-Hop Festival. Then I photographed Torae's Daily Conversation album release party."
"Once I started photographing backstage and doing this Hip Hop project, I started to meet everybody and everybody started to know who I was and what I was doing. It was really, really awesome. I was photographing EPMD, Joell Ortiz ... I ended up in the studio with KRS-One. I met Large Professor and we started doing work together. All the Duck Down stuff happened. I got to meet Jazzy Jay, Beatnuts, and Uncle Ralph McDaniels... I just started to really become a part of a really wonderful community that was full of multi-talented artists. There were some crazy shows back stage, where it was just great old school Hip Hop shows that Peter was doing, with Stetsasonic, People Under the Stairs, Jungle Brothers, Jeru the Damaja, Das EFX, Diggin' In The Crates, the X-Ecutioners...these shows were just really, really amazing."
"The final show at the Knitting Factory was the Rakim show, and he happens to be my favorite emcee of all time, so I was on stage with him. I'm photographing, getting backstage shots. Everyboy showed up. . . . There was one moment where Black Thought was coming up the stairs and I was the only person around because Rakim had cleared out the whole backstage. I snapped a picture, and you don't even see it's him – he's just like under his hat. But there's just so many great moments. Rakim turned to me and was talking to me into the mic on stage. He was like 'Yo, picture man, get this shot,' and fixed his hat."
On Future Projects: "The Solution [by Buckshot and 9th Wonder], I believe, will be coming out soon, which is a project that I recently shot for that album's artwork, so stay tuned. There's been some really wonderful photography for Beyond Race magazine that I just did, specifically the Mac Miller, Maya Azucena work. I have a piece in the New York Photo Festival, the audio visual exhibit. It's a photograph of Mobb Deep in the lab. [You] definitely want to check out Wax Poetics – I did a couple of shoots for them. And I did the cover for Maffew Ragazino's Rhyme Pays and some pictures of Rasheed Chappell in Hip-Hop Weekly that have just come out. I also did the DJ JS-1 No One Cares artwork, which is a really great concept that JS-1 came up with and we collaborated on and came out with a really fresh cover. The last one I'll mention is stay tuned for the next Large Professor project, which I shot some more for."
On Any Milestones He's Still Aiming For: "I found out this year that I'm gonna have a museum piece, which is a first for me. ... I am looking forward to more gallery showings. I would love to work more intensely with a Hip Hop magazine. I would also love to work with some major labels with artwork, and I would also love to start thinking about a book project. Those are things that I'm starting to think about. I'm real interested in doing some more video, and I would like to branch into some more Jazz [photography] as well."
On Being Grateful For His Success: "When I was studying photography and I had this idea of what I wanted to do. I just had these dreams, like 'Oh, I want to make music videos one day. I love these music videos' [while I was] watching MTV in my basement growing up. Right now, I'm making music videos. I'm photographing these Hip Hop legends. I'm at shows. Last night, I was at the New York Photo Festival, [which] included one of my music photos, and then I went over and saw ?uestlove spinning, and then got to see Nola Darling and Tanya Morgan and YC perform. I'm really kind of in the middle of it right now."
"You have these dreams and then you start struggling. You get out of college and in the real world and you're struggling to make these dreams happen, and then it takes quite a while. You really have to put your work in. I brought these lights and this backdrop down to the Knitting Factory night after night in the rain. No one's helping me, you know? We didn't have budgets for these shoots. If I forgot something, I had to jump in a cab, go get whatever I needed and come back. If the light went out on the focus light, I had to run out to CVS in the freezing cold to get another light bulb."
"There's a certain point where you're like 'Oh man, are these dreams gonna come true?' and then they start coming true and then they really exceed your expectation. [I'm] involved in a Hip Hop community that has accepted me so graciously, and I'm around genius musicians whose music I listen to, purchase and support today. I just feel really blessed and grateful to be able to photograph these musical talents. And honestly, my pictures are really just a very small part of documenting this community, and I'm grateful to do so."